Impediments and Opportunities for Growing the Cooperative Housing Sector: an Australian Case Study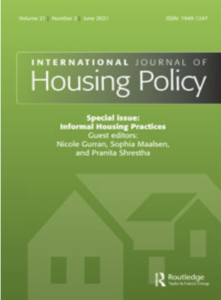 In many countries, housing cooperatives are longstanding and stable components of housing systems, providing a range of housing options that sit between the historically dual tenure poles of renting and owning. In others, such as Australia, cooperatives represent a very small proportion of total housing stock. Such differences derive from institutional lock-in resulting from market failures, government policy, and historical norms. Breaking the institutional lock-in requires evidence of the benefits of cooperative housing to demonstrate the rationale for appropriate policy frameworks. However, despite their longevity in some countries, cooperatives remain relatively under-researched, such that their purported benefits as compared to other tenure forms can be hard to assess or compare. This article provides a brief synthesis of the extant literature on the benefits of cooperatives before focusing on Australia where the sector is poised for growth from a very small base. We consider the impediments and opportunities for growing the sector in Australia, which highlight issues of potential relevance to other jurisdictions with similarly nascent cooperative sectors.
Click here to read more.