Benefits of Membership
Everyone gains from being connected to a wider movement. We practice the fifth cooperative principle of education, training and information and we are committed to our members learning about best practices and being inspired by the innovations in cooperative housing in various countries.
Being part of the international movement provides opportunities to develop business relationships and partnerships, make valuable exchanges and discuss solutions to common problems.
Members elect and are eligible for board of director and committee positions who in turn help to define CHI's priorities. CHI's leadership also help to develop a framework which will lead to the growth of cooperative and mutual housing solutions.
CHI members can participate in the wider cooperative movement by taking part in the International Cooperative Alliance sectoral meetings and regional and general assemblies. Members also gain access to the Alliance's centre of cooperative expertise, in particular cooperative statistics, information and intelligence.
By using the capacity of the Alliance, together we can increase the influence of housing cooperatives at the global, regional and sectoral levels. Housing cooperatives are more important now than ever and it's by thinking and acting collectively that we can demonstrate the power of the cooperative movement.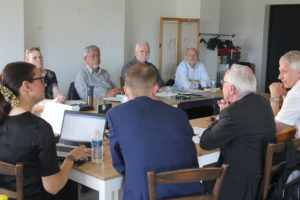 Becoming a Member
Membership to CHI is via membership to the International Cooperative Alliance (ICA). There are two types of members – Member and Associate Member. This means that all organisations participating in ICA at any of its levels should be either a Member or Associate Member of ICA, and that the one subscription will cover participation in all ICA structures whether at global, regional, sectoral or thematic levels.
It is not possible to join a sectoral organisation unless an organisation is a member of the ICA. If an organisation is already affiliated with an ICA member in their country, they can continue to access the sectoral organisation service offerings, for their sector, through that affiliation, as a representative of one of ICA's current members. This is possible if that organisation provides a letter from one of our current ICA members stating that the organisation is one of their members and that they agree to their participation in the sectoral organisation.
ICA Rules provide for more types of organisations to become members, not just apex type organisations. Therefore, it is now possible for a number of different types of organisations to become full members of the ICA:
National union or federation of cooperative organisations
National confederation of cooperative unions (apex organisations)
National cooperative business organisation with majority individual ownership (a cooperative society working at the national level whose members are not only people but can also be enterprises – i.e. a mixed
Individual co-operative organisation (primary or grassroots cooperatives)
International and regional (supranational) federations or unions of cooperative organisations(organisations with membership in multiple countries)
Mutual organisations that comply with the ICA Statement on Cooperative Identity
And the following types of organisations can become associate members:
Organisations that are not otherwise eligible to be full members, including:
Organisations that are supporters of cooperatives
Government departments and agencies
Organisations that are owned and controlled by cooperatives (entities that are not coops themselves but that are owned entirely by coops (not individuals)
Educational, research and other institutions that promote or finance cooperatives and the cooperative movement (training institutions and semi-autonomous institutions with no cooperative members)
Candidates for membership must fill in a Membership Application Form and provide International Cooperative Alliance with the following documents/information:
Rules of the Organisation
Annual Report
List of member societies /affiliates
List of organisational affiliations
The completed form and supporting documents should be sent to the Alliance by e-mail, fax +41 22 798 41 22, or post:
Mrs Gretchen Hacquard – Director of Membership, hacquard@ica.coop
Find out more about becoming a member of the International Cooperative Alliance.  If you have any questions concerning membership please email Cooperative Housing International Membership