VISION 4 HOUSING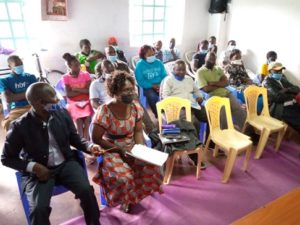 Vision 4 Youth Housing Cooperative in Kenya is a youth group focused on providing its members with quality housing. Based in Nakuru Town, an area with an average growth rate of 3.1% per annum, compared to the Kenyan average of 2.6%, Vision 4 is providing much-needed housing.
To understand how a cooperative works, members underwent training that helped them put in place the structure and organization that they now follow. The cooperative has over 120 members and has added older members, ranging in age from 18 to 50 years.
The pandemic had a significant impact on the cooperative's housing construction contracts, but unlike many other businesses that were forced to close, the cooperative provided members with opportunities to build their way to more economic stability through income-generating activities.
Thanks to a partnership with Global Communities' CLEAR Program under the USAID Cooperative Development Program, training on Gender, Good Governance and Equity has led to increased participation of women in cooperative operations. The youth have not been left out – they are contracted on a daily basis to make interlocking blocks for the construction of housing for members.
Vision 4 Housing has proven that cooperatives can create income-earning opportunities that protect the environment, promote community participation, and encourage entrepreneurial spirit. Cooperatives are not only sustainable businesses but partners in locally-led community development
Click here to view the full case study.