Students and Housing Cooperatives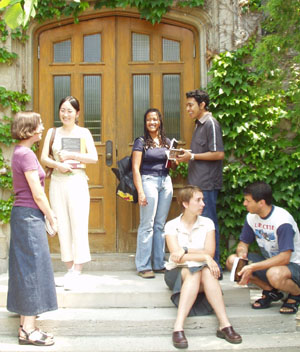 Student housing cooperatives have become very popular in the USA and many of these housing co-operatives are members of organizations such as NASCO. Unlike a resident who acquires shares at market rates to earn the right to occupy a specific apartment on a permanent basis (share capital co-op model), a resident of a student co-op acquires membership and occupancy rights by paying subscription fees or by paying rent (non-share capital co-op model).
In the case of student housing co-operatives, members typically share a house and are communally responsible for its associated housekeeping duties. Student-owned and -operated housing co-operatives were formed primarily for economic reasons to provide low-cost housing to university students. Secondarily, they generally provide experience in self-governance and social cooperation.
The earliest examples began in the Depression years. Two of the first on record were founded in 1932, Michigan Socialist House at the University of Michigan in Ann Arbor, Michigan and Collegiate Living Organization (University of Florida) in Gainesville, Florida. Examples of such cooperatives are the Oberlin Student Cooperative Association at Oberlin College, University Students' Cooperative Association in Berkeley, California, Santa Cruz Student Housing Co-ops in Santa Cruz, California, Qumbya in Chicago, Illinois, University of Minnesota Students Co-op in Minneapolis, Minnesota, Student Housing Cooperative at Michigan State University, Inter-Cooperative Council at the University of Michigan, Brown Association for Cooperative Housing in Providence, Rhode Island and Two Dickinson Street Co-op in Princeton, New Jersey.
Although student housing cooperatives are relatively isolated to North America, there are some in Australia, for example STUCCO in Sydney. Since many are small cooperatives verifying their existence is not easy.
This guide outlines the main steps to starting a co-operative. It is written for students, with blogs by students who have done it, alongside, films, links and case studies.
In the UK, Students for Co-operation have produced a Feasibility Study into setting up a National Body of Student Housing Co-operatives  as a secondary co-operative made up of student housing co-ops themselves.  You can read the report here.
If you have any information about student housing cooperatives not mentioned please contact us.