Research into the potential demand for co-operative housing in Wales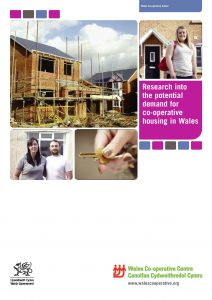 With increasing pressures on the public purse, and a commitment by policy makers to provide solutions around the needs of citizens, it is clear that co-operative housing has an important role to play in increasing the provision of affordable housing in Wales.
There are a number of different types of co-operative housing, either for rent or for sale, but they have one fundamental thing in common: they put democracy and community ownership at the heart of housing.
Some of the advantages of co-operative homes are:
An affordable form of housing
A democratic and safe community
Long term stability and security for members
Flexible to meet occupiers needs
Potential of shared community benefits
The Welsh Government has made a commitment in the Programme for Government to 'develop and promote new ways of providing land and funding for housing, such as community land trusts, mutual home ownership and co-operatives'.
This report presents the findings on the public perceptions of co-operative housing in Wales. For those who want to learn more about the sector it sets the scene, provides cases studies and gives a set of practical recommendations to take this forward across Wales.
With financial support from Welsh Government and the Co-operative Group, the Wales Co-operative Centre commissioned market research to better understand how to take forward co-operative housing and community ownership. The research focused on a number of emerging pioneer projects in Wales, but also referenced other projects around the country. By engaging with 3 focus groups in local communities in Carmarthenshire, Newport and Cardiff, as part of an action learning process, a greater understanding of people's needs and opinions has formed, which will be integral to the delivery of co-operative housing projects in Wales.
There is still a great deal more to achieve and a number of barriers to be overcome – not least the need for greater recognition of the potential contribution of co-operative housing in Wales. It is now vital that all those individuals and organisations, who have helped shape this document, continue to work together to implement its recommendations. We believe this report will provide valuable information for those who want to deliver co-operative homes in their communities.
Download the full research report here.