Promoting Cooperatives – International Labour Organization (ILO) Recommendation 193 on the Promotion of Cooperatives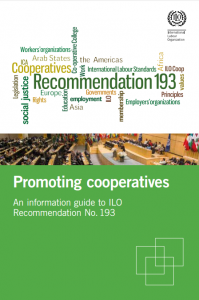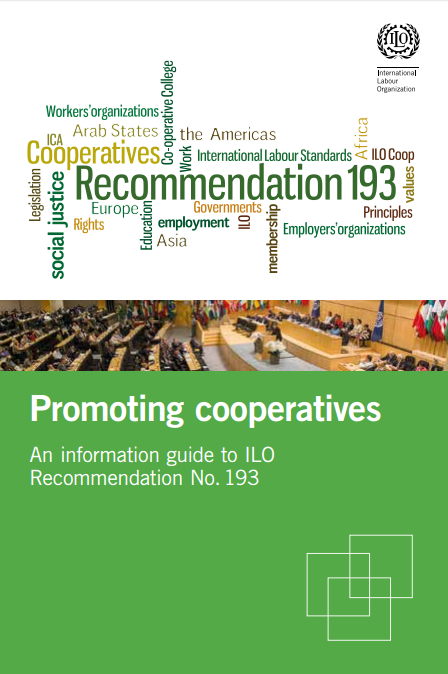 In 2002, the International Labour Conference adopted a new 'Recommendation' – an international policy guideline, which provides a framework for co-operatives for the 21st century. In the 1980s and 1990s, the quest for economic progress often failed to recognise the potential of co-operatives. Instead they were often portrayed as models from a previous era that had 'served their time'. Now the extraordinary power of the simple idea of co-operatives – democratically owned and controlled enterprises, serving their members' needs, rooted in their communities – is again proving popular, as co-operatives demonstrate themselves to be 21st century businesses.
Promoting Co-operatives (second edition) is a guide for those who want to know more about the ILO Recommendation, and how it provides a basis for law and policies on co-operatives. But it also shows how and why we need to campaign for co-operatives. It introduces the international policy guideline which provides a framework for co-operatives in the 21st century. Designed to be used in all parts of the world, the publication iswritten in a simple format to enable ease in translation.  It is the result of a collaborative effort of the Co-operative College in the UK, the ILO and the International Co-operative Alliance.
ILO activities are guided by the international standard on cooperatives, the ILO Recommendation on the Promotion of Cooperatives, 2002 (R.193), Its Cooperative Branch (EMP/COOP) serves ILO constituents and cooperative organizations in four priority areas:
Raising public awareness on cooperatives through evidence based advocacy and sensitization to cooperative values and principles;
Ensuring the competitiveness of cooperatives by developing tailored tools to cooperative stakeholders including management training, audit manuals and assistance programmes.
Promoting the Inclusion of teaching of cooperative principles and practices at all levels of the national education and training systems; and,
Providing advice on cooperative policy and cooperative law, including participatory policy and law making and the impact on cooperatives of taxation policies, labour law, accounting standards, and competition law among others.
Partnerships for cooperative promotion
The ILO works in partnership with the International Cooperative Alliance (ICA), the representative world body of cooperatives and is a member of the Committee for the Promotion and Advancement of Cooperatives (COPAC), an interagency committee which promotes sustainable cooperative development. It also collaborates with cooperative development agencies and training institutions.