Palo Alto, Mexico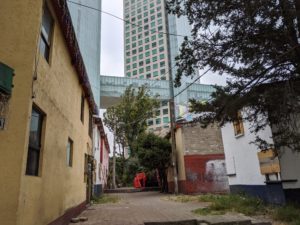 Palo Alto is home to 2,500 residents living in a housing cooperative in a working-class neighbourhood in Mexico City. It's wedged between highways, luxury shopping malls and skyscrapers. Richard Audet, a colleague from Montreal, visited the coop in late 2019 and shared this report with us. You can also read our news article here.
Palo Alto compte 2 500 habitants qui vivent dans une coopérative de logement dans un quartier ouvrier de Mexico. Il est coincé entre les autoroutes, les centres commerciaux de luxe et les gratte-ciels. Richard Audet, un collègue de Montréal, a visité la coopérative à la fin de 2019 et nous a fait part de ce rapport.  Vous pouvez également lire notre article d'actualité ici.
En Palo Alto viven 2.500 personas en una cooperativa de viviendas en un barrio obrero de Ciudad de México. Está encajonado entre autopistas, centros comerciales de lujo y rascacielos. Richard Audet, un colega de Montreal, visitó la cooperativa a finales de 2019 y compartió este informe con nosotros. También puede leer nuestro artículo de noticias aquí.