Guide to Developing New Co-operative Homes in the UK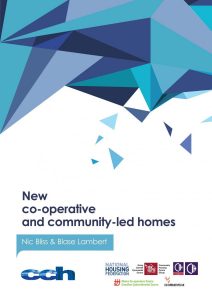 The Confederation of Co-operative Housing (CCH), with the support of national English and Welsh housing and co-operative organisations, has launched a new guide on developing new homes. 'New-Co-operative-and-Community-led-Homes-2017 is a basic guide for community groups, local authorities, housing associations, housing co-operatives and others in the UK who are interested in exploring the development of new co-operative and community-led homes.
The guide was launched at the Chartered Institute of Housing's Cymru's TAI 2014 conference in Wales, on 25th March 2014, reflecting the current work being done by Welsh communities, local authorities and housing associations to develop new co-operative housing schemes in the country. This ambitious programme, supported by the Welsh Government and Wales Co-operative Centre, is beginning to lead to the development of a Welsh co-operative housing sector, with a variety of schemes under development using a range of bespoke approaches and different tenures in urban and rural areas.
The report's author and CCH Policy Officer Nic Bliss said: 'We published this guide to cater to the growing interest in co-operative housing we are coming across in communities, in existing co-ops, in local authorities, in housing associations, and in the English and Welsh Governments. Developing a co-operative housing scheme requires dedication and commitment, but the long term benefits to communities of co-operative housing are well worth the journey. It's a movement for change. It can offer community based methods of providing homes and local community networks and is recognition of the skills of local communities to help themselves manage their own housing solutions'.