view all news
This Week in the News – May 16th, 2022
Screening of PUSH – A Housing Crisis Documentary (Europe)
Large, institutional investors or 'corporate landlords' have a growing footprint in our cities. Investment firms seek to purchase multiple housing units and then rent them out to make a profit. They view houses not as homes, but as money-making machines—lucrative investments instead of a human right.
Corporate landlords are concentrated in the world's big cities – from Paris to Berlin, Madrid, New York, Buenos Aires, Cape Town, and Seoul. Approximately 1.8 billion people are homeless or live in grossly inadequate housing, often without access to basic services like water, sanitation, and electricity. Meanwhile, by the end of 2020, the value of residential real estate had surged to an estimated US$258.5 trillion — up to $90 trillion from 2016. Housing has become the largest asset class on earth, worth three times more than global GDP and more than 20 times all the gold ever mined. What can be done to help defend the right to housing around the world?
Join us at the European Parliament or online on June 2nd, 15:00-19:30 (CET) for the launch of The Shift Directives on the financialization of housing. The Shift Directives are the first-ever comprehensive framework providing governments and investors with guidance to effectively address the financialization of housing in accordance with human rights law.
Prior to the launch, we will be screening the documentary PUSH. The award-winning documentary from director Fredrik Gertten sheds light on the global phenomenon of the commodification of housing. It follows the real-life stories of those living through the housing crisis worldwide.
Register here for in-person or online attendance
Cooperative Housing International's MAY 2022 Member Forum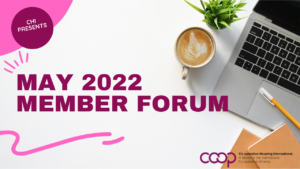 Welcome to CHI's May 2022 Member Forum! Unfortunately, we forgot to record the full meeting, but we were able to get a recording of MOBA's presentation and then a quick rundown of what's to come for CHI.
Click here to watch the Member Forum.
Developers Are Gobbling Up Mobile Home Parks. Can Residents Buy Them First? (USA)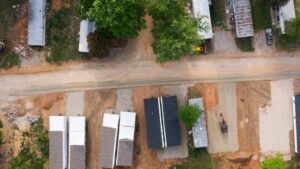 Mobile home parks have been a reliable source of affordable housing in Charlotte for decades, offering prices well below nearby apartments or homes. But a confluence of factors, including rising land prices and an influx of investors looking to make money buying parks, threaten this way of life. New reporting and data analysis from The Charlotte Observer shows how in the middle of the city's widening affordable housing crisis, this remaining refuge has come under siege.
With mobile home communities around the United States a prime target for investors, there is a movement to put park ownership in the hands of the residents who live there. The resident-owned community model aims to safeguard against mobile home parks' largest precarity — that people can be ousted at any time when the land beneath their homes is sold to a new owner.
Click here to read more.