view all news
CHI member Sostre Cívic receives the Social Innovation Award from the European Innovation Council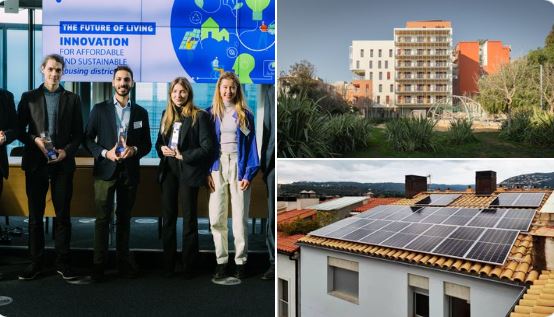 Sostre Civic, an umbrella organization that supports cooperative housing groups in Catalonia, Spain, received the Social Innovation Award from the European Commission and the European Innovation Council and the Executive Agency for SMEs (EISMEA). The jury recognized the social and ecological transformation of the grant-of-use model that Sostre Civic uses to develop cooperative communities.
Of the winning proposal, the Jury assessed that it "successfully implements an alternative housing model, fairer and more accessible, non-profit, non-speculative and transformative." Visit the European Innovation Council website to learn about the other two finalists from Italy and Austria. It is the third time in 10 years that a Catalan initiative has won a prize in this competition.
The finalist project submitted to the European competition was developed between Sostre Cívic and Celobert, who presented two cooperative housing projects at different scales that incorporate social and environmental impact strategies, as well as replicability in other areas in the territory.
Cireres Cooperative
One of the projects is the Cirerers cooperative co-housing built on municipal land in the Roquetes neighbourhood of Barcelona.  ​​The eight-storey community building is a wooden structure that houses 32 cohabitation units. Designed by its inhabitants, the scheme stands out for its commitment to the city, the community and the environment. Moreover, it is a passive building designed with bioclimatic criteria that incorporates efficient and renewable installations, with minimal environmental and energy impact.  Cireres, which means "cherry trees," is a dry-built building, a technique that allows materials to be recycled at the end of their useful life.  The cooperative is almost entirely made of wood, making it the tallest building in the state built with this material. You can watch the inspiring video below to learn more about Cireres' process (includes English subtitles.)
La Sala
The other project is La Sala, a renovated building in Calonge and Sant Antoni to the northeast of Barcelona. It is intended exclusively for young people under 35 years of age. Located in a disused building owned by a financial institution, the rehabilitated building offers an affordable and worthy housing alternative to emancipate the young people of the municipality.  The popular tourist destination currently has one of the most expensive rental prices in the whole province.
The main objective of the building's renovation was to rehabilitate the homes and common spaces to restore habitability and to equip the building with facilities and community elements to gain energy efficiency. Self-produced renewable energy systems such as a biomass boiler and photovoltaic panels lower energy costs for the residents and reduce the consumption of electricity, heating and hot water.
Furthermore, this project represents a key strategy to make the right to housing effective through the mutualization of disused spaces and public-private collaboration. It also serves as a precedent to promote similar initiatives in neighbouring towns on the Costa Brava, many with problems of access to housing due to tourism.