Member Forum
Online
November 17, 2022 - November 17, 2022
Th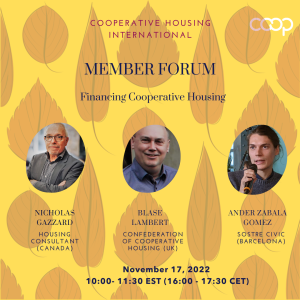 e financing of cooperative housing or any community housing has become more and more of a challenge over recent decades. The reasons for this relate both to housing market economics and how willing governments are to support coop housing development as a matter of public policy. The outcome is that it has become more and more difficult to develop coop housing that members can afford to live in.
Cooperative housing organizations and policymakers are responding to these challenges in different ways, as financing affordable housing development using only conventional financing is becoming difficult or impossible.
In this member forum, we will look at creative financing solutions that are rising from the challenges of raising capital. We have invited speakers from England, Canada, and Catalonia to speak about the financing mechanisms they are using to develop housing cooperatives.
Register on Eventbrite.