79th Session of the Committee and Housing Land Management
Palais de Nations, Geneva
October 04, 2018 - October 05, 2018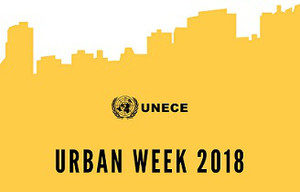 The 79th session of the Committee on Housing and Land Management will take place from 4 to 5 October 2018 in Geneva.
This year's theme is "Towards sustainable housing and urban development through alignment with the 2030 Agenda and the New Urban Agenda in the UNECE Region". For more information and to register, please click here.
The detailed programme is available here.
The complete schedule for the Urban Week is as follows:
1 October 2018 – Celebration of the World Habitat Day: "Women Without Walls" – a photography exhibition
2 October 2018 – "In Focus: SDG 11" – a roundtable
2 October 2018 – "Infrastructures and Urban Sustainability: Challenges & Opportunities from the ground" – SDG 11 roundtable in cooperation with University of Geneva
3 October 2018 – "Right to Housing: Homeless No More" – a library talk
3 October 2018 – Third meeting of the Joint Task Force on Energy Efficiency Standards in Buildings
4-5 October 2018 – 79th Session of the Committee on Housing and Land Management, featuring Mr. Kevin McCloud, Grand Designs as keynote speaker
5 October 2018 (pm) – The Future of Asia and Pacific Cities Report 2019: sub-regional meeting for North and Central Asia (closed meeting)
To attend UNECE meetings at the Palais des Nations, you must register in advance online on the relevant conference/meeting's webpage.  For Long Duration badges, please contact the secretariat of the meeting.