view all bulletins
Fall 2022
International Cooperative Housing Symposium – Zurich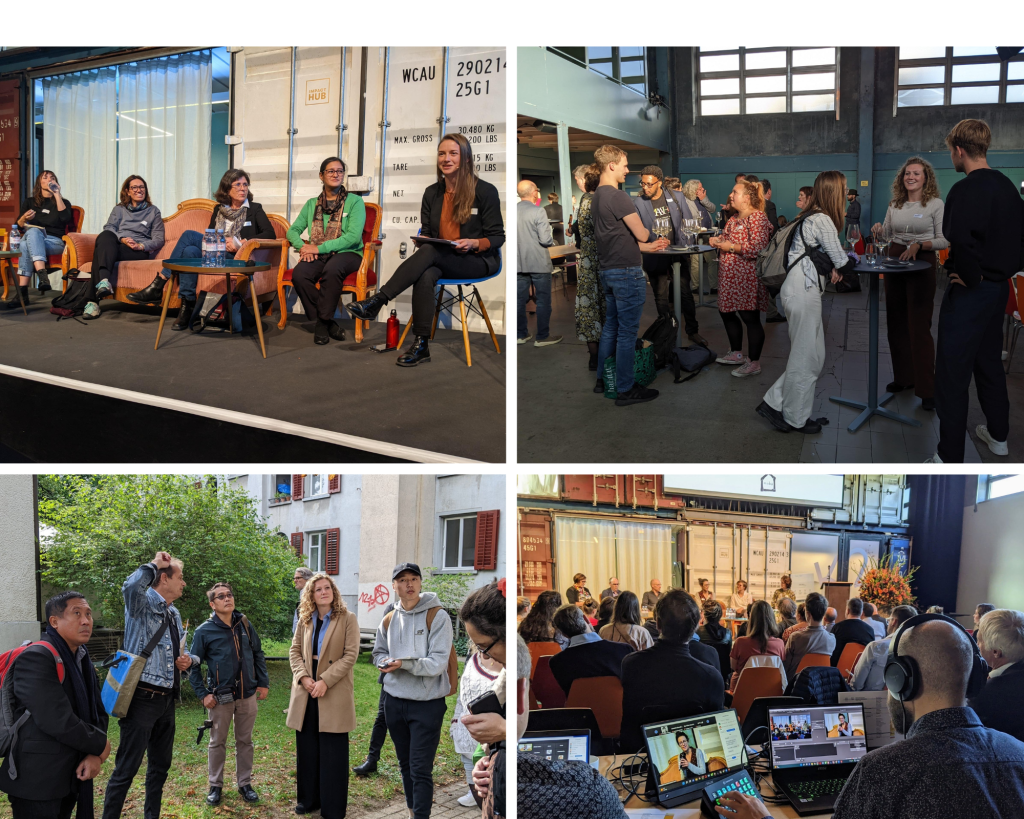 The International Cooperative Housing Symposium took place in Zurich on September 22 and 23, 2022. Under the slogan "Growing the Movement", 15 speakers discussed the future of cooperative housing with over 100 participants from Europe, Israel, the Philippines, North and South America, and Japan.
Did you know that almost 25% of all rental housing in Zurich is not for profit? In Zurich alone, there are more than 200 housing cooperatives. Cooperative housing in Zurich has long been a model for other countries with researchers and housing practitioners often looking to Zurich for best practices in participatory design, cutting-edge architecture, innovative financing instruments, international solidarity, community-building, and more. ABZ,
Zurich's largest housing cooperative, ABZ, along with WBG, the Swiss umbrella organization for housing cooperatives, and CHI partnered up to host the 2nd International Cooperative Housing Symposium. This year's theme Growing the Movement focused on sharing the movement's successes and providing a space for networking and creating new partnerships. The overall consensus is that housing cooperatives offer inclusive, safe, resilient, and sustainable housing. Many countries have recognized the benefits of this housing model but others are a bit slow at coming to the table. The path to a more sustainable and equitable future can only be achieved through cooperation, community engagement, and the right tools and enabling policies.
The following day we visited two recent developments (Fogo and Zollhaus) and one longstanding classic (Ottostrasse) during the guided visits that took place the following day. Check out the photos on Instagram. You can also read a summary of the Symposium here.
Student Housing Cooperatives Unite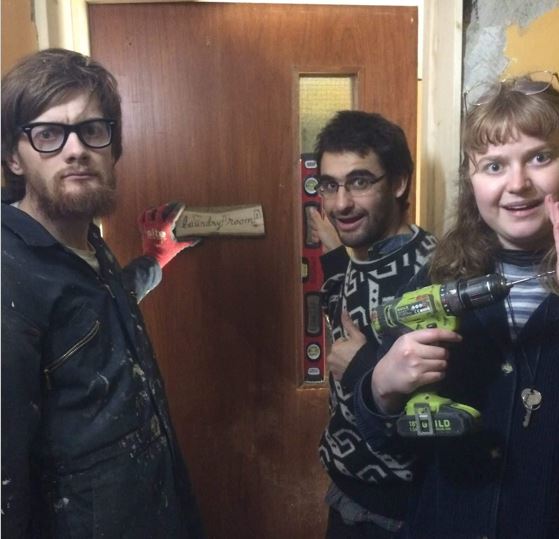 Cooperators from Europe, America, and Japan assembled in Zurich and Geneva in late September to learn more about the cooperative housing model as it applies to students. The weekend was a combination of sharing knowledge and best practices, discussing a future European-wide association for student housing cooperatives as well as some site visits in Geneva.
In the first session on Cooperating among cooperatives: working together for more student housing, La Ciguë (Geneva), NASCO (North America), Studentendorf (Berlin), Ospitalità Solidale (Milan), and Student Coop Homes (UK) shared some inspiring examples of student housing cooperatives in their respective countries, focusing on the importance of adequate financial and technical support brought by public actors and through cooperation with other housing cooperatives and their local federations and networks.
The following session focused on the bricks-and-mortar side of things: Architecture and its influence or impact on student living. Edinburgh Student Housing Coop showed us how they transformed a basement garage space into a flexible open space used for meetings, and public events, as well as a common room. The coop members used sweat equity, and reclaimed materials like gym flooring, taps, and sinks to keep costs down.
The following day the group travelled to Geneva by train for some brainstorming and site visits. We formed into different groups and threw ideas around on the needs of the students and which functions a European-wide association could fulfill, such as training, networking, advocacy, advice, etc…
After a long day of travelling and working everyone had the night off to socialize and network. One of the students expressed that it is so important when working on something new and innovative to have the solidarity of people from outside your own country, as this means you're not alone. Also, it is an opportunity to exchange others' success stories and challenges, Stay tuned for more updates!
For more on the student event, you can read the article below about the site visits.
Geneva Student Cooperative Housing Site Visits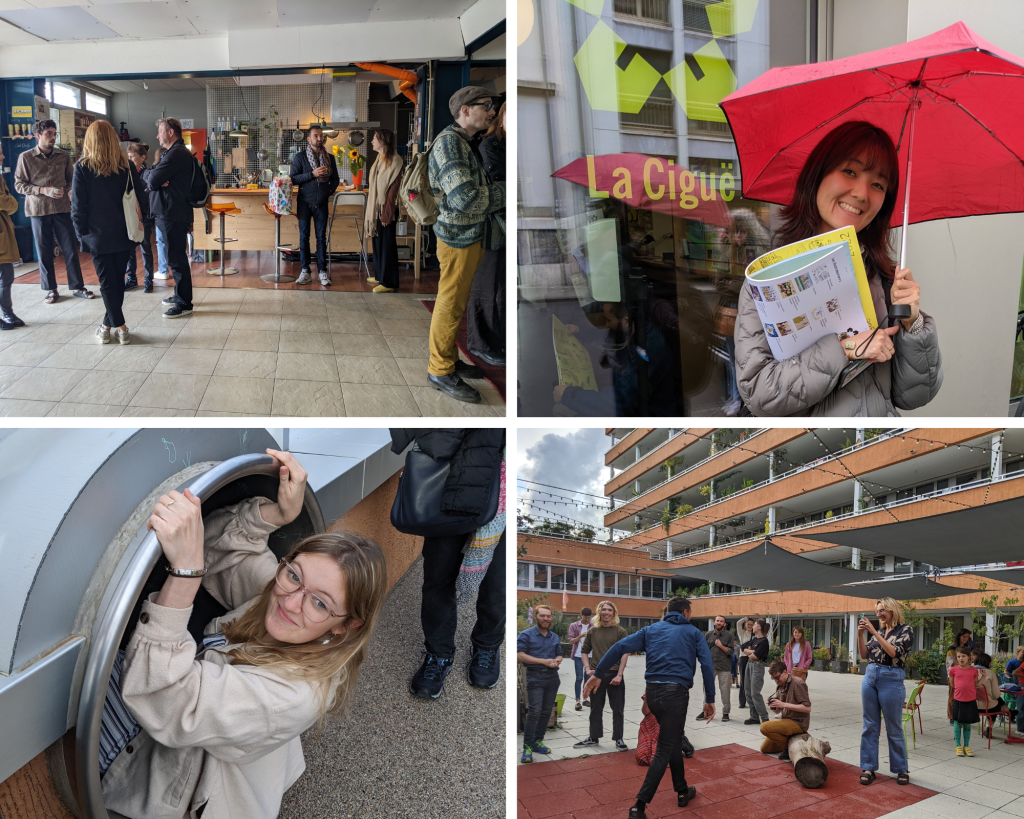 On the third day of the Student Cooperative Housing convening participants visited student housing coops where they saw and learned how local governments, ethical finance, universities, and other actors are working together to continually develop student housing coops. From city land leases to the temporary use of empty buildings, these financial mechanisms and innovative solutions are creating vibrant, green, and affordable cooperative communities.
The first site we visited is an initiative called HEX.AO. It's a living and event space in an empty office space in the heart of Geneva. Led by La Cigue, a student housing cooperative organization in Geneva, this reimagined space involved six months of volunteer construction work by the nine residents who are now living there temporarily until the building is demolished and redeveloped. This experiment is easily replicable and a great way to use temporary spaces for student housing.
The second cooperative home featured in the tour houses over 50 young adults and students and is situated on a very narrow parcel in a vibrant part of central Geneva near the Rhône River. La Coulouvrenière is an eight-floor energy-efficient building that uses renewable energy for heating and hot water.  The coop is self-managed by the residents and the cluster-style apartments are real hubs of solidarity and active social lives. This was was a real life-saver during lockdowns with students supporting one another and only isolating if they were ill. Each floor has beautiful murals painted on the walls and there are lots of options for locking up bikes. Even the laundry room was home to a free clothes swap space for the members. A beautiful example of sustainable living! The rent is kept low and affordable and surpluses are used for the upkeep of the building and for communal expenses.
The third site we visited is a former residence for Voltaire's domestic servants called Clos Voltaire. The building was abandoned for many years and occupied by student squatters. The city of Geneva eventually purchased the site and worked with La Cigue to adapt the building into two student apartments. Roughly thirty students and interns live in the coop. Each person gets their own room and shares the communal living and kitchen spaces. Residents share the cooking and cleaning tasks and hold monthly meetings to discuss issues and resolve conflicts.
In addition to being affordable, student housing cooperatives also offer exceptional opportunities and enriching life-learning experiences. From building social cohesion to managing conflict, students learn many practical skills that will stay with them throughout their entire lives. And with surpluses being put back into the coop this ensures that future generations of students can benefit from this exceptional form of affordable housing.
After seeing some truly inspiring student cooperative housing and realizing what is possible, students from Brussels, the USA, Cork, Belfast, Japan, Edinburgh, and Bristol all went back home with new friends, tons of inspiration, and lots of hope for a brighter future.
The 4th International Conference for Cooperative Housing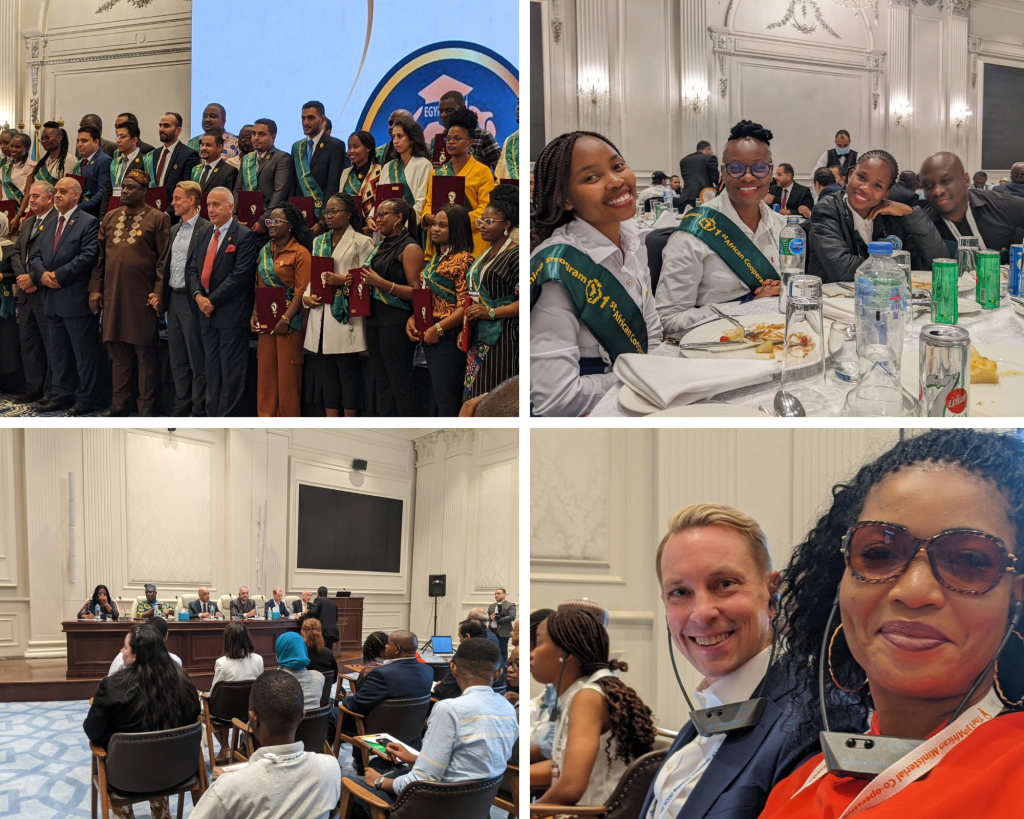 The First African Cooperative Housing Training Program was held in New Cairo during the Fourth International Conference of Cooperative Housing hosted by the General Authority for Construction and Housing Cooperatives (CHC) from October 16 to 19. It brought together young cooperative leaders from Botswana, Kenya, Rwanda, the Democratic Republic of Congo, Cameroon, Morocco, Nigeria, and Egypt in a series of courses addressing cooperative leadership and management. Ayeola Tajudeen Oriyomi, President of ICA Africa, couldn't have said it better, "It's important for the youth to transmit this knowledge back to people in their respective cooperatives back home, not just for the organizations but for their conscience." Dr. Sifa Chiyoge, Regional Director of ICA Africa spoke about how the youth of Africa are its biggest asset. Africa is the continent with the youngest population worldwide. As of 2021, around 40 percent of the population is aged 15 years and younger, which is both a challenge and an asset.
This is why addressing the agenda 2063 is so pertinent and important to the youth of Africa. It is Africa's development blueprint and strategic framework for the continent's inclusive and sustainable socioeconomic development over the next 50 years. The agenda envisions an integrated prosperous and peaceful Africa driven by its citizens and people-based enterprises like cooperatives. Dr. Cheyoge also added that the path to development does not exist without decent housing. This training program is a great opportunity to take back this knowledge and grow the movement and contribute to the success of future cooperative housing leaders. Special thanks go out to CHC, Dr. Hassam Rizk, and Mr. Nabil El-Bishbishi for initiating this training program. Thanks also go out to Linda Brockway, Christian Bengtzelius, Florence Assen à Ngam, CHI board members, and Julie LaPalme, Secretary General of CHI, who provided training and presented at the conference.
New Cairo was also hosting the 13th Africa Ministerial Cooperative Conference (AMCCO) where the ten-year Africa Cooperative Development Strategy was launched. The theme of the conference was Growing Africa Together: The role of African Cooperatives in accelerating Sustainable Development Goals (2030) and the Africa We Want (Agenda 2063). Affordable housing is reflected in the sub-theme titled "Cooperating among cooperatives": An integrated socio-economic development model. The goal is to share best practices and experiences in developing innovative construction systems and low-cost housing construction through "cooperation among cooperatives."Click here to read the Africa Cooperative Development Strategy.
CHI Board Meeting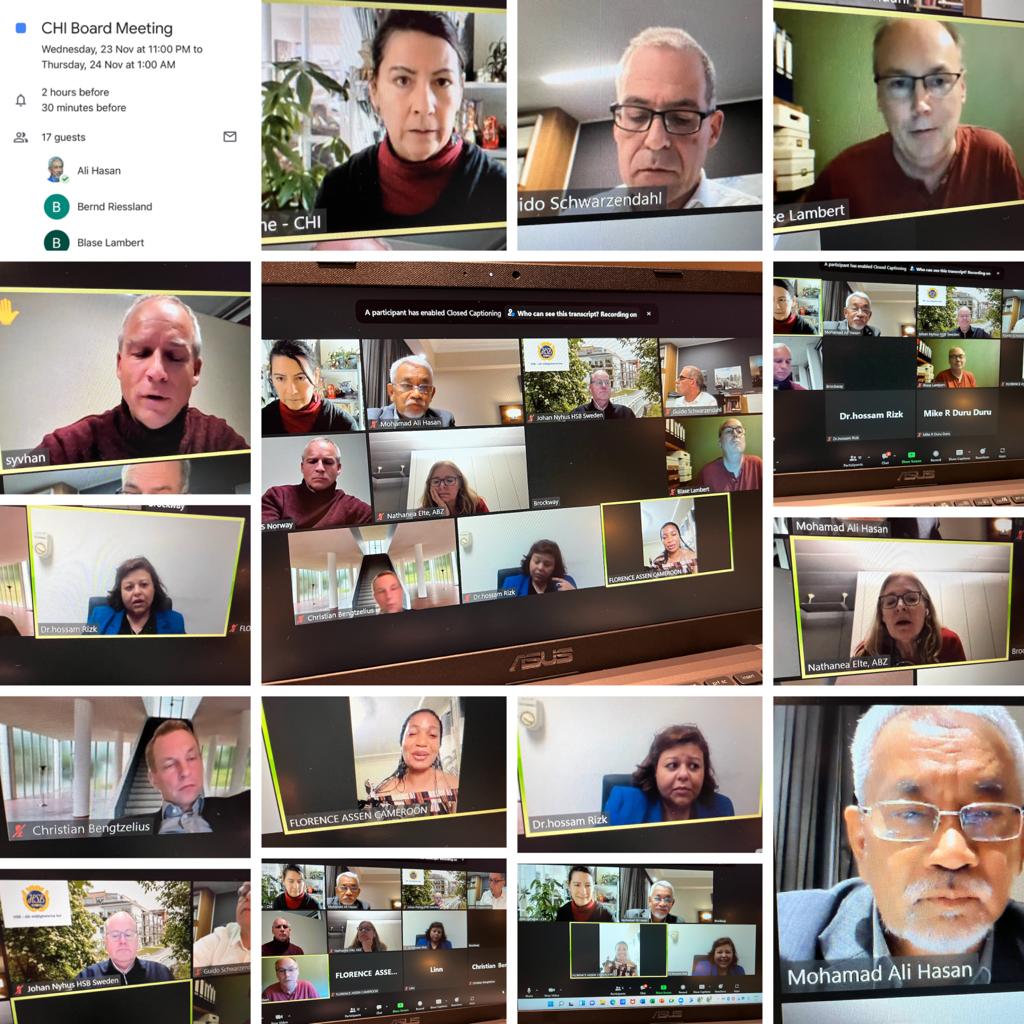 On November 23rd the CHI board met to discuss issues related to legal framework, membership, communications, partnerships, capacity building, and more… We ended with a roundtable on how rising inflation, energy prices, and interest rates are affecting member organizations. Higher material costs are impacting cooperative housing construction budgets and sky-high energy costs are a challenge for both resident members and cooperatives to pay. Still, with all these challenges, the common thread throughout is that housing cooperatives continue to provide affordable housing based on cooperative principles and values with determination and solidarity. The next board meeting is in February 2023.