view all bulletins
December 2016
Was 2016 a good year for housing co-operatives?
Fall 2016 Housing Conferences: Housing Europe, International Summit of Co-operatives & Co-operative Summit of the Americas;
Membership News: USA & Chile;
Website Update;
Best Wishes for 2017
Was 2016 a Good Year for Housing Co-operatives?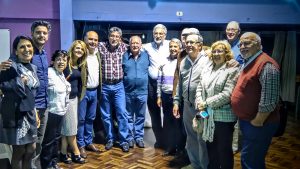 Before describing CHI's activities since the summer e-bulletin, we would like to reflect on whether 2016 was a good year for housing co-operatives. Since this outlook is observational and not based on any measured data we will keep it simple and say it's been a good year but there is always room for more housing co-operatives. We have seen a rise in seniors' co-housing developments in North America and Europe and our curiosity is leading us to undertake research on this topic in 2017. We also noticed that South-East Asia and Africa continue to feel the legislative hurdles of land management which sometimes causes people to lose faith in housing co-operatives. CHI will continue promoting the co-operative housing model as a viable housing solution through social and other media and as CHI's membership grows, 2017 will see even more partnerships and projects flourish.
Fall 2016 Housing Conferences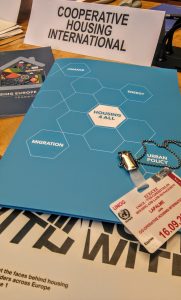 In September, the Housing Europe General Assembly and capacity building conference themed "The Housing Policies of our Future– How to Make Them Work" saw housing experts from Europe and beyond deliver a roadmap of suggestions for future housing policies. Peter Cachola Schmal, director of the German Architecture Museum, which helped curate examples of housing for immigrants for the German pavilion at the Venice Biennale was the keynote speaker making the case that "We don't have a refugee crisis, we have a housing crisis. Building affordable housing for refugees will thus create tensions with all those already waiting for affordable housing because now they are competing in a shrinking market. If cities take a more creative approach to urban planning—adopting some of the solutions that architects propose—it may soon become clear that the influx of refugees can lead to better housing for everyone."
Blase Lambert from the Confederation of Co-operative Housing in the UK highlighted the many different models of housing co-operatives which helped to emphasise the flexibility of housing co-operatives in meeting the different needs of residents from all over the world. Anders Lago, Chairman of HSB from Sweden, had this to say about the Housing Europe Conference: "The conference really showed the breadth of housing issues in Europe. But despite this, almost all European countries have a housing shortage. We need better social housing policies in the EU for housing people with low or no incomes."
International Summit of Co-operatives
October saw panellists, young and less-young co-operators, economists and leaders come together in Quebec City for the 3rd edition of the International Summit of Co-operatives. CHI held its board meeting prior to the summit, followed by a panel discussion on long-term economic sustainability. Panellists discussed why planning ahead ensures the needs of future residents will be met and how incorporating climate change resilience into your planning will preserve housing co-operatives for future generations. This ties in nicely with the UN's Sustainability Development Goals (SDGs) which was the main topic of discussion at the Summit. Don't forget to pledge your co-operative's contribution to achieving the SDGs through the Alliance's Co-ops for 2030 campaign.
Co-operative Summit of the Americas
In November, Julie LaPalme, CHI's Program Director, attended the Co-operative Summit of the Americas in Montevideo, Uruguay where the SDGs were also widely discussed. Cooperativas de las Americas and the Uruguayan Federation of Housing for Mutual-Support Cooperatives (FUCVAM), organized a two-day housing conference and tour.
In Uruguay, members of the housing co-operative receive training in construction and administration and use their new skills to build their housing co-operative. Education, self-help and solidarity are strong components of the co-operative movement, particularly in Uruguay. You can read this great article about FUCVAM here called "Building Autonomy, One Co-op at a Time."

Membership News
The United States of America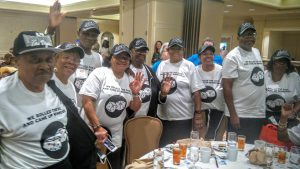 The National Association of Housing Cooperatives (NAHC) in the United States has officially joined CHI membership, bringing 1.5 million units of co-op housing represented by NAHC into the international co-operative family. In October at their annual meeting in Las Vegas, NAHC's board decided unanimously to join CHI after hearing CHI President Nicholas Gazzard explain how the global co-operative movement leads to great partnerships and learning opportunities. NAHC's decision to join CHI is the result of many years of co-operation between NAHC, CHF Canada and CHI.
"I am delighted that NAHC has decided to join CHI," said Gazzard, who is also CHF Canada's executive director. "It's important now more than ever for our neighbours to the south to be connected to the global co-operative movement. We are looking forward to building on our relationship with NAHC."
"We sincerely thank Mr. Gazzard and Ms. LaPalme for their support as we worked to obtain approval to become a member of the International Co-operative Alliance," said NAHC Treasurer Linda Brockway. "NAHC looks forward to adding new insight as we move forward with our work with CHI."
"NAHC hopes to hear new ways of doing things from the international movement," said NAHC President Gregory Carlson. "Established partnerships such as the National Cooperative Business Association, the National Cooperative Bank, North American Students of Cooperation and CHF Canada have made NAHC a stronger organization. In fact, NAHC's 2015 annual report theme was about partnering and now we have taken it to the global level!"
Chile
Another of CHI's newest members, CONAVICOOP, has been involved in
the construction of housing for low to middle-income earners in Chile since 1980. Currently, the affordable housing programs in Chile focus on home ownership but since joining the global co-operative movement and attending their first co-operative summits in Quebec and in Montevideo this autumn, CONAVICOOP is learning more about different models they would like to introduce in Chile. Since joining the global movement, many opportunities for collaboration with South America and other parts of the world have opened up for CONAVICOOP. The picture below is of a newly built community where residents can add rooms to their houses as funds become available. This resident added a small shop where people can buy a variety of products.