The state of Housing in Europe in 2021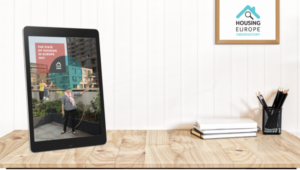 After a year into the global health pandemic, Housing Europe's 'State of Housing 2021' report provides a first analysis of the impact the COVID-19 crisis has had on public, cooperative, social housing, and our communities. The flagship publication produced by the Federation's Housing Observatory illustrates the alarming housing reality in 21 countries. It offers concrete policy recommendations on overcoming substantial challenges to decent, sustainable, inclusive, affordable housing.
"The need to improve homes to fulfil new functions without pricing people out is now clearer than ever. Including work and study spaces so that our homes enable all to lead a productive life will be crucial to reducing the inequalities which not having adequate housing reinforce when we are obliged to 'stay at home," Housing Europe's President, Bend Madsen, says. Various analyses show that inadequate housing impacts well-being, mental health, school performance and the possibility to work remotely. Previous editions of 'State of Housing' have been drawing attention to Eurostat figures that report for nearly 10% of the EU population experiencing housing cost overburden and over 17% of Europeans living in overcrowded homes, making social distancing a particularly challenging task. 
In contrast to the struggles of households relying on low to middle incomes, "house prices growth continues to outstrip the increase in incomes", Alice Pittini, Research Director of Housing Europe, stressed. While housing markets had recovered from the Global Financial Crisis in 2009, average house prices in the EU's private sector have increased by over 30% in the past decade, and rents have increased by almost 15%. According to the OECD, unbearable housing costs coupled with growing unemployment rates due to COVID-19 will result in higher demand for social and affordable housing. Higher demand comes on top of already large unmet needs. In England, council housing waiting lists already count 1.1 million households and risk to nearly double to 2 million households in a year from now. One out of four tenants in Czechia in 2020 fear that they will have to leave their current home in the next 12 months. In Italy, the share of tenant households with arrears on rent payment in the private rental sector has jumped from less than 10 to 24% since the start of the pandemic.
"Although available data at European level do not yet fully allow to grasp the new post-COVID-19 reality, social and affordable housing providers are already seeing the impact on communities and neighbourhoods," the Chair of the Housing Europe Observatory, Laurent Ghekière points out. For over a year, public, cooperative and social housing providers have been taking the extra mile to support residents and tenants. Preventing homelessness and promoting inclusion by adapting rent payments, helping people access social assistance, reaching out regularly to the most vulnerable, ensuring digitalisation and working from home possible, rethinking the design of homes and neighbourhoods – the social and affordable housing sector has been and will continue to protect people, communities and the economy.