Finalist World Habitat Awards 2017: Düzce Hope Homes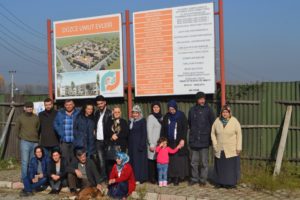 Düzce Hope Homes is the result of a 15 year rights-based struggle in Northern Turkey. A co-operative was set-up to fight for the right to housing to be extended to tenants – victims of earthquakes in 1999 – who did not receive post-disaster support from the government.
Based in the Beyköy district of the province of Düzce, the Co-operative was founded by local people in 2003, 4 years after the earthquakes which killed over 18,000 people and destroyed over 100,000 homes.  After many years of mobilisation and activism, including mass demonstrations and government lobbying, they eventually secured subsidised land on which to rebuild their homes and community.
The development is expected to be completed by 2018 and will include 234 units housing 1,000 people in 29 buildings.  There will also be a community centre, urban gardens, a women's co-operative kitchen and public spaces. These public spaces will benefit an additional 5,000 people in the local area.