Climate-Proofing Social Housing Landscapes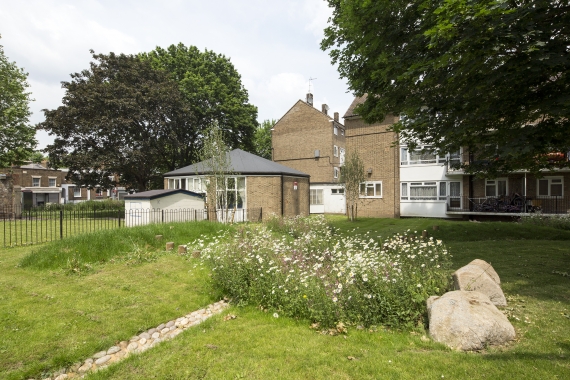 Climate-Proofing Social Housing Landscapes, a project run by Groundwork London in the UK in partnership with the London Borough of Hammersmith and Fulham, aims to demonstrate how to prepare and adapt in order to future-proof existing buildings and infrastructure, minimizing the impact extreme weather events will have on both the environment and on people's lives.
Climate scientists predict that climate change is likely to mean wetter winters and more summer heat waves in the UK, leading to both water shortages and flooding. In cities, where there is less green space to absorb the rainwater, much of it runs down the drains into the sewers or directly into the rivers, with heavy rain causing the risk of flooding and ultimately substantial damage, disruption and costs to communities, with those living in social housing often the most vulnerable.
Co-financed by the European Commission's LIFE+ Programme, the project centred on three social housing estates in West London. It worked with the local authority, residents and other key stakeholders to design and implement adaptation measures to ensure that these estates are better placed to withstand the effects of a changing climate.
The programme has demonstrated through water-sensitive urban design measures and other adaptation actions that urban housing estates can play an important part in helping our cities to cope better with climate change.
Key activities included:
Retrofitting cost-effective, light-engineering solutions in green spaces to help ease environmental impacts such as flooding and heat waves, adopting a model that is replicable in and transferable to cities across Europe.
Creating training and employment opportunities for apprentices to carry out some of the adaptation work, and for staff and grounds maintenance contractors to learn how to maintain these measures and replicate them elsewhere.
Working alongside residents to give them the opportunity to shape the open space improvements on their estates, and to raise their awareness about the implications of climate change for London and Londoners and the actions residents can take themselves to contribute to adaptation.
This practical Implementation Guide outlines the opportunities available to housing providers across Europe, providing tools, resources and advice based on the activities and outcomes from the project, and using the three project sites as best practice examples.
Click here to find out more about the project and download the guide.