Bringing Democracy Home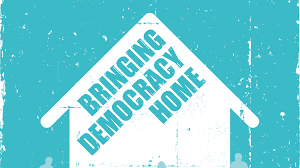 'Bringing Democracy Home' shows that the benefits extend beyond the performance indicators: people who live in democratically owned or managed housing take more responsibility, and feel a greater sense of belonging, identity and ownership.
The Commission on Co-operative Housing's independent research project 'Bringing Democracy Home' found that co-operative and mutual housing has consistently produced a range of benefits including above average resident satisfaction ratings and sound housing management performance.
Co-operative members in the UK who have started out with broken lives widely acknowledge how mutual housing has provided opportunities to reshape their futures by acquiring skills and moving into work. And members tend to be good citizens – tackling climate change, volunteering as school governors, transforming the wider neighbourhood, and participating in activities that foster community cohesion.
The diversity of the sector has been underlined. Housing co-operatives collectively owning and democratically managing their homes form the largest segment followed by tenant management organisations or short life organisations that manage or lease homes owned by other landlords. More recently, community gateways and mutuals have made a start on injecting democracy into social housing by facilitating stock transfer from local councils. Cohousing schemes are providing community housing alternatives to the alienation of modern life, especially for older people. And community land trusts and mutual home ownership are couching aspirations for individual asset ownership within a community safety net.
The report calls for existing funding streams to be realigned to support the expansion of the co-operative and mutual housing sector. Support structures and a legal and regulatory framework that is sympathetic to democratic service-user control of housing are also recommended. Widespread promotion and publicity about available models, incorporating a clear route map for ordinary people to access the sector, is equally vital for future development.
The Commission has made suggestions for actions by local councils to initiate a co-operative and mutual housing sector in their areas and how housing associations can offer ongoing support. Council housing departments, arm's length organisations and housing associations are also challenged to take steps towards developing more co-operative and mutual models of delivery both within their own organisations and in their spheres of influence.
But the crucial ingredient in expanding the sector is a commitment by government at all levels to introduce more democracy into housing giving ordinary people and communities the means to take control of their homes, lives and neighbourhoods and forge their own, local solutions.
Download the report here.