News

The Ukraine Symposium looked at the Model for Creating Affordable and Adequate Housing in Ukraine, and was held on 12-13 November 2018, together with IWO (Housing Initiative for Eastern Europe) and several other partners.
Over 80 participants gathered to learn about cooperative housing from different countries, and discuss whether and how cooperation could be a part of the solution to Ukraine's housing challenges. 
Panellists from Germany, Estonia, Poland, USA, Norway, Austria and Sweden explained the cooperative model used in their country and shared good practices. Guido Schwarzendahl, Vice President of Cooperative Housing International, from Germany presented "Cooperatives as UNESCO Intangible Cultural Heritage in Germany".
Aliana Babak, a Member of Parliament of Ukraine was one of the guest speakers. Opening remarks were made by Gunther Adler, Germany's State Secretary, Ministry for the Interior, Building and Community in Germanyand Lev Partskhaladze, Deputy Minister of Regional Development, Construction and Housing and Communal Services.
The event took place in conjunction with UNECE's Forum on Energy for Sustainable Development. The conference concluded with a joint statement on the future of cooperative housing in Ukraine which is also published online. 
Meetings with representatives of the Ukrainian government were also held where they promised to review and modernize their cooperative legal framework, and they also spoke positively about our international examples. More information is available here.
Two of the speakers' presentations are available, one from CHI President, Anders Lago from HSB, Sweden and Guido Schwarzendahl, CHI Vice-President from Bauverein Halle, Germany who spoke about Cooperatives as a UNESCO Intangible Cultural Heritage and Cooperatives and Legal Frameworks for Housing Cooperatives in Germany. 
Knut Höller of the Housing Initiative for Eastern Europe also spoke on the subject of Ukrainian Housing Market: housing cooperatives and the challenge of complex energy-efficient refurbishment of typical multi-family apartment buildings in Ukraine.

Housing cooperatives can help fix Australia's housing crisis
Common Equity (NSW) has announced a new worldwide study to identify the extent and value of housing cooperatives around the world.
The research, commissioned by Australia's Peak Coop Housing Bodies; 'Articulating Value in Cooperative Housing' was undertaken by researchers from Western Sydney University and the University of Newcastle. It analysed existing research in a dozen countries. The findings point to the significant benefits of Cooperative Housing Models. For example:
Cost Savings: up to 14% lower capital and operating costs under the cooperative model
Social Capital: Stronger social networks and sense of community – higher than any other form of housing Health & Wellbeing:
Widespread reports that living in a housing co-operative provides a greater sense of physical, emotional, mental health and well-being Resident Satisfaction:
Widespread reports of lower costs, high-quality homes with better security and housing stability.
Their research found that "The existing research indicates numerous potential benefits created by cooperative housing in many countries. This gives us a solid starting point for identifying the extent and nature of the value created by Australia's housing cooperatives, including the value generated by the people who live in cooperatives" says Louise Crabtree, Senior Researcher, from Western Sydney University.
Click here to read their media release.  The full Research Report for Stage One will be released in mid-late August 2018.  A second stage of the Research is expected to commence by the end of 2018 and will quantify the extent to which cooperative housing delivers value in the Australian context.
Meeting with the Cooperative Department, Ministry of Economy in Dubai
On April 1st 2018,  Ahsan Ali Thakur visited the Ministry of Economy in Dubai, United Arab Emirates (UAE). Ahsan is Manager of Human Resources & Communications for Karachi Cooperative Housing Societies Union in Pakistan. He is also Chairperson of ICA-Asia & Pacific Committee on Youth Cooperation (ICYC) and a board member of the International Cooperative Alliance and Vice-President of the Global Youth Network. Ahsan was received by Mr. Saeed Mubarak Bin Amro, Director of the Cooperative Department at the Ministry of Economy, and his team, Mr. Ahmed Shrief, Head of Section Monitoring and Controller Cooperative Dept.; Mr. Wali Al Khairi and Mr. Muhammad Yusri, both Finance Controllers in the Cooperative Department.
Ahsan presented cooperative facts and figures in addition to explaining how the cooperative movement began in Pakistan. He also presented the book Cooperation in Cooperatives: Future Solution to Socio-Economic Problems as a memento and for sharing cooperative knowledge.
Further discussion took place with sharing of ideas as well as prospects and success stories of cooperative development in the UAE.  Everyone agreed that further discussion and knowledge sharing should be the way to move forward between the two countries. Ahsan invited his hosts to visit Pakistan for further exchanges and knowledge sharing.
He also informed them about the second ICA-AP Committee on Youth Cooperation Youth Summit in August in the Philippines. The Summit's purpose is to engage and encourage youth to start cooperative enterprises. Loomio, a worker-owned cooperative social enterprise that develops open source software, was at last year's summit in Bali, Indonesia. This year, the Youth Summit is looking for entrepreneurs (between 18-35 years of age) from the cooperative sector to speak at the conference. Please contact us at info@chi.coop if you're interested or have any suggestions.
How can a housing cooperative offer affordable houses at below-market costs?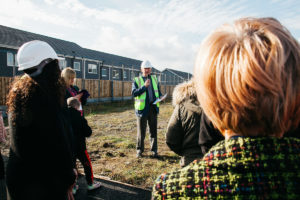 A housing cooperative that last year sold 49 homes in Ballymun at prices starting from €140,000, is to build a new low-cost housing estate in the north Dublin suburb.
An Irish housing cooperative was able to keep the prices below market costs, because it was sold the land in Poppintree, Ballymun, by Dublin City Council for €1,000 per house plot. On the open market, the same plots would have cost €20,000-€30,000. The council also waived the development levies of €86.40 per square metre.
Read the whole article here.
Vive la France! A home for retirees by retirees is officially open!
This is a story about a group of people from Vaulx-en-Velin, in the eastern suburbs of Lyon, France where fifteen retirees decided in 2009 to build a building in their image and to live better together. In 2010 they created the Chamarel Association and in 2012 created a co-operative named Chamarel "Les Barges."
This group of friends decided to create intergenerational housing to allow them to take their aging in hand, in continuity with their personal and professional beliefs: social commitment, associative life, culture and politics, teamwork and cooperation.
The Mayoress of Vaulx en Velin, former State Secretary for Urban Policy in the previous French government spoke at the Chamarel inauguration September 29, 2017 and congratulated residents and Presidents of the Chamarel les Barges Coop and the Friends of Chamarel Association for realizing their dream and vision.
The residents of Chamarel were also very happy to have Pablo Caballero from the Federación Uruguaya de Cooperativas de Vivienda por Ayuda Mutua (FUCVAM) with them for a few days to exchange ideas and experiences. He had previously visited Coopérative d'habitants Village Vertical in Villerbanne, Rhône in 2015.
Some details about the project:
Designed by senior citizens for senior citizens
The four-story building includes 14 one-bedroom apartments of 45 m², two two-bedroom apartments of 63 m², as well as public spaces on the ground floor, including two guest bedrooms, a common room with a kitchen, a workshop, a laundry room and an office
All the apartments are identical (double orientation, similar kitchen equipment etc.) in a concern for equity
Wide sliding doors and facilities for adaptation over time
Functional for people as they age
The building's location also guarantees ease of access to public transportation, businesses, and services
Three loans totaling €1.7 million euros. (Crédit Agricole granted a 275 K€ loan reimbursable over 50 years for the property and a loan of a bit more than 1 M€ for the building for 40 years. Moreover, 612 K€ were borrowed at a zero percent interest rate over 20 years from CARSAT, a bank for retirement insurance and worker health)
Elderly people succeeded in borrowing 75% of the total cost over a 50-year repayment period! The mortgage lenders ended up agreeing because the project brought them good publicity
Sustainable construction using straw, which is excellent thermal and sound insulation
In addition to insulating, straw regulates humidity, and once the wall of straw is coated, it becomes a very good firewall
Read more about Chamarel-les-Barges on their website and read this article!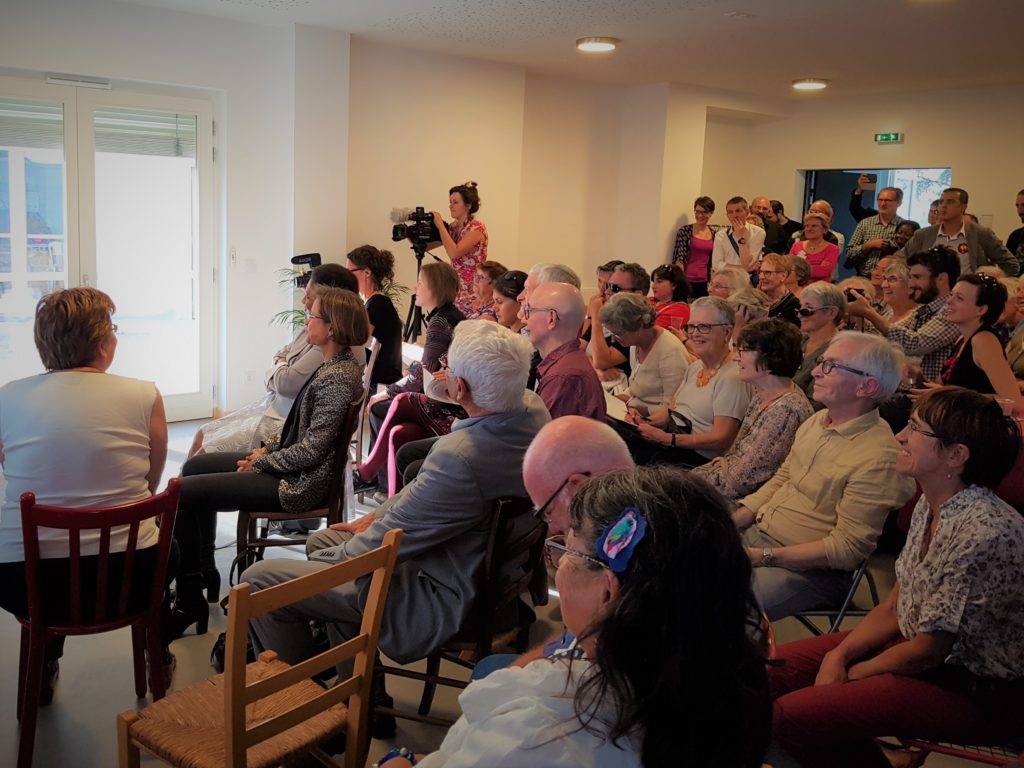 Inauguration de la Coopérative d'habitants Chamarel-les-Barges