view all news
Vive la France! A home for retirees by retirees is officially open!
This is a story about a group of people from Vaulx-en-Velin, in the eastern suburbs of Lyon, France where fifteen retirees decided in 2009 to build a building in their image and to live better together. In 2010 they created the Chamarel Association and in 2012 created a co-operative named Chamarel "Les Barges."
This group of friends decided to create intergenerational housing to allow them to take their aging in hand, in continuity with their personal and professional beliefs: social commitment, associative life, culture and politics, teamwork and co-operation.
The Mayoress of Vaulx en Velin, former State Secretary for Urban Policy in the previous French government spoke at the Chamarel inauguration September 29, 2017 and congratulated residents and Presidents of the Chamarel les Barges Coop and the Friends of Chamarel Association for realizing their dream and vision.
The residents of Chamarel were also very happy to have Pablo Caballero from the Federación Uruguaya de Cooperativas de Vivienda por Ayuda Mutua (FUCVAM) with them for a few days to exchange ideas and experiences. He had previously visited Coopérative d'habitants Village Vertical in Villerbanne, Rhône in 2015.
Some details about the project:
Designed by senior citizens for senior citizens
The four-story building includes 14 one-bedroom apartments of 45 m², two two-bedroom apartments of 63 m², as well as public spaces on the ground floor, including two guest bedrooms, a common room with a kitchen, a workshop, a laundry room and an office
All the apartments are identical (double orientation, similar kitchen equipment etc.) in a concern for equity
Wide sliding doors and facilities for adaptation over time
Functional for people as they age
The building's location also guarantees ease of access to public transportation, businesses, and services
Three loans totaling €1.7 million euros. (Crédit Agricole granted a 275 K€ loan reimbursable over 50 years for the property and a loan of a bit more than 1 M€ for the building for 40 years. Moreover, 612 K€ were borrowed at a zero percent interest rate over 20 years from CARSAT, a bank for retirement insurance and worker health)
Elderly people succeeded in borrowing 75% of the total cost over a 50-year repayment period! The mortgage lenders ended up agreeing because the project brought them good publicity
Sustainable construction using straw, which is excellent thermal and sound insulation
In addition to insulating, straw regulates humidity, and once the wall of straw is coated, it becomes a very good firewall
Read more about Chamarel-les-Barges on their website and read this article!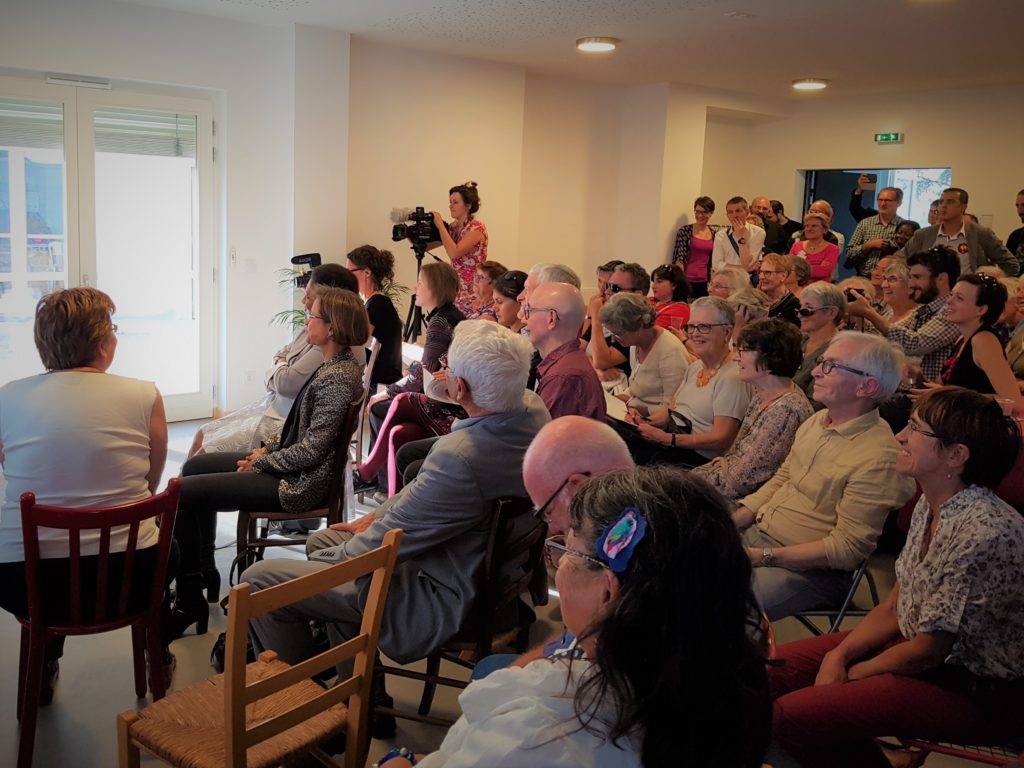 Inauguration de la Coopérative d'habitants Chamarel-les-Barges