view all news
This Week in the News – February 28th, 2022
Woonmodel Collectief Goed (Belgium)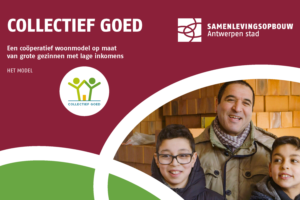 Collective Good is a multi-stakeholder cooperative / social enterprise in Antwerp, Belgium that offers affordable and high-quality housing to large families in poverty. Want to know more? You can download the six different steps to developing the Collective Good model (in Dutch). Click here to visit the Dutch website and download the Collective Good model.
English:
Housing is a fundamental right. But the waiting lists for social housing in Flanders are long. There is a desperate shortage of housing for large families.
In 2007, a number of fathers of large families in a precarious situation decided to group together under the name Arm in Arm. SAAMO (then called Samenlevingsopbouw) organised their meetings and together they looked for possible solutions. The temporary occupation of a number of vacant social flats, to be renovated, by the social housing company De Ideale Woning, was the first step.
SAAMO, De Ideale Woning, and Arm in Arm will work together more intensively, resulting in the establishment of Collectief Goed and a declaration of commitment for 77 premises.
By the end of 2020, 37 properties of De Ideale Woning will have been contributed to Collectief Goed and from 1 January 2021, the cooperative will be fully independent.
But how exactly did this evolution take place? How did the pieces of the puzzle fall into place? In 6 different steps, an explanation is given on how the development of the Collective Good model came about.
How an 1800s Victorian Became a Land Trust Cooperative (USA)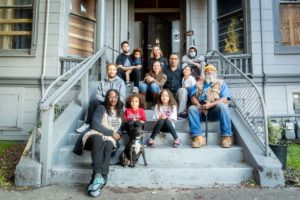 In 1889, a widow originally from Maine had a Victorian house built on 12th Avenue, in one of Oakland's earliest neighborhoods.
Over the next century, the evolution of that Italianate-style home would demonstrate many of the different ways people have lived in Oakland: as owners of single-family houses, as renters of apartments, as squatters who stay in buildings illegally because they can't afford the high cost of living.
Now, in 2022, the residents of 1432 12th Ave. are trying yet another experiment in living. They've formed a cooperative and, with the help of a community land trust, they're working to keep the building permanently affordable for all of its current and future residents. The transition has not been easy, involving foreclosures, police, a neglectful landlord, and the daunting task of figuring out how to live harmoniously and respectfully as a collective.
Click here to read more.