view all news
This Week in the News – August 16th, 2021
Here are the top stories for the week of August 16th, 2021.
The One Trick Landlords Don't Want You To Know About: Housing Co-Ops (England)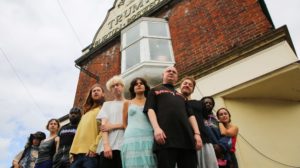 Walk past The Rising Sun in south London and you might assume it's still a functioning pub. A cream-tiled facade reads "The Rising Sun, Truman's. Burton, Brewed, Bitter." Baskets of pink and orange geraniums hang along the outside and a sticker in the window says "phone from here."
Originating in the 1800s, a housing co-operative is a collectively owned and non-profit organisation where tenants mutually support each other. The concept has existed for centuries, but its modern incarnation grew out of England and France primarily to support a growing working-class struggling to afford property, with the first English housing co-op on record originating in Rochdale. In the UK, the rise of council housing in the early 20th century meant housing co-op numbers were relatively small, but after Margaret Thatcher's Right to Buy in the 1980s saw the depletion of social housing stock, co-operatives grew again as an affordable way of living. It's a popular idea elsewhere in Europe too: in Poland, 3.5 million dwellings are co-operatives, while housing co-operatives make up 17 percent of housing stock in Norway. Click here to read more.
Remaking the Economy: Social Housing—A Path to Housing for All? (USA)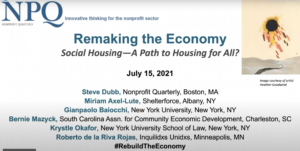 The pandemic has created a terrible eviction crisis, which the federal government is trying to address with emergency rental assistance. But how do we reduce the precariousness of housing in the long run so that a public health crisis or other disaster doesn't snowball into displacement? Many people are calling for more social housing as part of that solution. What does that mean? What will it take to make it happen?
This 90-minute in-depth webinar, jointly organized by NPQ and Shelterforce, brings together four leading voices in the field to discuss these issues. Click here to learn more.
How Two Groups are Working to Meet the Housing needs of Queer, Trans, Black, and Non-Binary People (USA)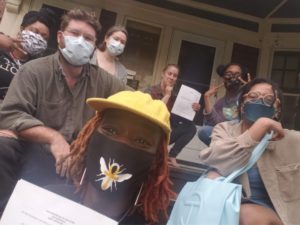 In the spring of 2020, Annia Leonard was on the verge of being evicted.
But Leonard's friends stepped in to help, and that lead to the creation of the Brave Green Wave Trybe, a group that has purchased a home that will be centered around and owned by queer, trans, Black, and non-binary people.
The Trybe partnered with the 21st Street Community Cooperative, which aims to build a safe and encouraging community of co-ops by purchasing multiple houses within a small radius around the 1100 block of North 21st Street. Click here to read more.