view all news
Rosie Moore, Peterborough Housing Co-op, New Zealand – Coop Conversations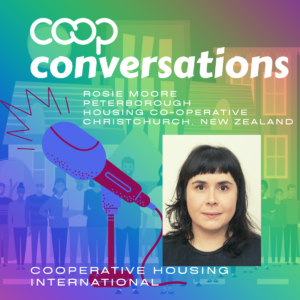 This podcast features various guests from around the world who are currently living or working in housing cooperatives . You'll discover more about what it's like to live in a housing cooperative through these conversations. We've talked with parents raising a family in a housing coop, retired folks who want to retain their autonomy and not live in expensive retirement homes. We also talk to teenagers, new immigrants and the list goes on.
This week we feature Rosie Moore from Peterborough Housing Co-op in Christchurch, New Zealand. The Peterborough Housing Co-operative was founded in 1982, but had to be rebuilt after experiencing extensive damage in the 2011 earthquake. The coop rebuilt a unique pocket neighbourhood in the heart of Christchurch, with community at its centre.
In this episode, Julie LaPalme, CHI's Secretary-General talks with Rosie about growing up in a housing coop and now raising her son in one.
Listen on Spotify or wherever you listen to your podcasts. Click here to watch on YouTube.