view all news
Cooperative Housing in the Spotlight
Part 1: Panel Discussion – Cooperative Housing Through Partnerships
Members of Cooperative Housing International will provide examples of best practices in cooperative housing that demonstrate innovation and successful ways of leveraging partnerships. Whether completed or underway, these case studies will show the potential of adaptation to meet the needs and opportunities in other regions and jurisdictions. A second session on housing cooperatives in France will follow at 11:15.
Part 2: Le modèle coopératif et la transposition du modèle suisse en France
Le modèle coopératif est souvent utilisé pour des projets d'habitats participatifs à travers le monde. Cette table ronde rassemblera des représentants de plusieurs pays pour en témoigner : La Codha à Genève, puis Habicoop, Devcoop, Habitat & Partage, et UrbaMonde vous présenterons les adaptations françaises et leur application concrète.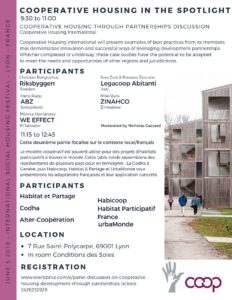 Time: June 5th, 2019, 9:30 to 12:45
Location: 7 Rue Saint-Polycarpe, 69001 Lyon
Room: Conditions des Soies
Registration: https://www.eventbrite.fr/e/billets-collaborative-housing-day-59173360113
Download poster here.