view all news
ICA World Cooperative Congress – Deepening our Cooperative Identity – December 1-3, 2021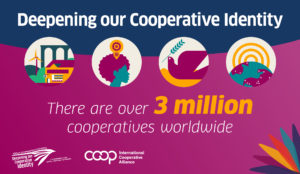 The 33rd World Cooperative Congress will enable the cooperative movement to explore its identity to build a more secure future. Using the current global crisis as a framework, discussions will aim to deepen the cooperative identity by examining its values, strengthening its actions, committing to its principles and living its achievements.
• ICA World Cooperative Congresses are historical moments for the movement that bring co-ops and cooperators together to share, learn and grow.
• The Congress will be a hybrid event, taking place both in-person in Seoul, and online.
• The event will feature a range of keynote speakers, including UN Special Rapporteur for Extreme Poverty and Human Rights, Professor Olivier De Schutter; activist and founder of the Self-Employed Women's Association (SEWA), Ella Bhatt; and ILO Director-General, Guy Ryder.
Explore what is happening on each day of the World Cooperative Congress programme here. See how the sessions address the different Congress themes and find out more about the people taking part in the different sessions.