view all news
2019 European Collaborative Housing Awards -(Closed)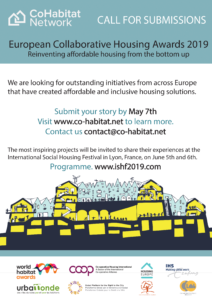 CALL FOR SUBMISSIONS ARE NOW CLOSED for the European Collaborative Housing Awards. Submit your affordable and inclusive collaborative housing solutions by May 7th and win a chance to attend the Int'l Social Housing Festival in Lyon this June! Visit www.co-habitat.net/europe-2019 for more details.
Why participate?
• Present your project at the European Collaborative Housing Day, which will take place during the International Social Housing Festival on June 5th and 6th in Lyon, France.
• Share your experiences and network with inspiring organizations from the field of housing and urban development.
• Receive a public recognition (European Collaborative Housing Award) and gain public exposure and visibility.
• Enter the shortlist of the World Habitat Awards 2020 (organized by World Habitat and UN-Habitat).
• Be part of a growing community of collaborative housing peers!
The European Collaborative Housing Awards are an initiative of CoHabitat, a network of community-led housing organizations and allies from across the world, who work together to secure housing rights through collective, non-speculative, people-led solutions.
The European Collaborative Housing Awards are supported by:
Housing Europe, Global Platform for the Right to the City, Habitat International Coalition, Co-operative Housing International, IHS Institute for Housing & Urban Development Studies, Erasmus University, Co-Lab Research of TU Delft, World Habitat Awards