view all news
Coops Day – Cooperatives for Climate Action – Go Green Campaign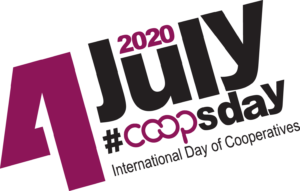 The theme of the International Day of Cooperatives 2020 is COOPERATIVES FOR CLIMATE ACTION. We are inviting the global cooperative community to continue pushing for actions that will address climate change. This critical situation is putting lives and livelihoods at risk, disrupting vital ecosystems for people and the planet.
Cooperatives worldwide can take this opportunity to show leadership and share their cooperative values in combating this global issue. A Cooperatives Communications Guide will soon be available to help cooperatives use this day to illustrate the importance of taking action to battle climate change.
Together with DotCoop, ICA is launching the 2020 International Cooperative Day interactive map to illustrate how cooperatives worldwide are taking action to battle climate change, and celebrating their successes. Get more information here on how to participate. Last year there were more than 130 events in over 40 countries worldwide. Don't forget to promote #CoopsDay and #Coops4ClimateAction on all your social media channels.
YOUTH AND COOPERATIVES WORKING TOGETHER TO FIGHT CLIMATE CHANGE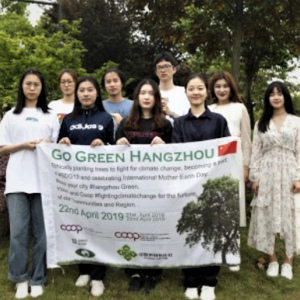 CHI is partnering with the ICA – Asia and Pacific Committee on Youth Cooperation  (ICYC) on the Go Green Campaign. Initiated by the ICYC in 2018, youth (35 years of age and below) are taking part in combating the global threat that climate change poses on future generations. It is based on the belief and cooperative value of 'self-help and solidarity' that youth and cooperatives can be a part of while sustaining their environment. Through the Go Green Campaign, we want to promote the 7th cooperative principle which states that cooperatives are sustainable and responsible in their approach, and play an important role in leading environmental sustainable initiatives.
PURPOSE AND ALIGNMENT
It is estimated that between 3.5 and 7 billion trees are cut down each year. The loss of trees and other vegetation are contributing to climate change, desertification, soil erosion, fewer crops, flooding, increased greenhouse gases in the atmosphere, and a host of problems for indigenous people. The goal of the campaign is to motivate and encourage youth from different countries to plant trees to help fight climate change through self-help and solidarity. 
Young trees absorb CO2 at a rate of 6 kg per tree each year. Trees reach their most productive stage of carbon storage at about 10 years at which point they are estimated to absorb 22 kg of CO2 per year.
"This campaign connects youth with cooperative societies and how they can be a sustainable model for their community. We support this campaign to empower youth in this positive and concrete action!"  Julie LaPalme, Secretary-General, Cooperative Housing International
Promoting the Cooperative Identity: Planting saplings is an ideal way for youth associated with cooperatives to explain the cooperative model, its benefits, and the cooperative advantage.
Involving Youth: The Go Green Campaign is not only about cooperatives doing their part but is also encouraging youth to serve their community through self-help and solidarity.
Environmental Action: The best way for youth to engage with their community is to get involved in action-oriented green campaigns.
Mitigating Climate Change –  SDG13 : Climate change is now affecting every country on every continent. Swift action is required to mitigate rising global temperatures. Research shows that planting a trillion trees can absorb 20 years' worth of global greenhouse emissions.
CONTACT AND QUESTIONS
If you want to make an impact and engage a team of youth in the Go Green Campaign or if you have any questions please contact ICYC at ahsanalithakur@yahoo.com. Please include "Go Green Campaign 2020" in the email subject line. 
#Coops4ClimateAction