The 4th International Conference for Cooperative Housing
St. Regis AlMasa Capital, Cairo
October 17, 2022 - October 20, 2022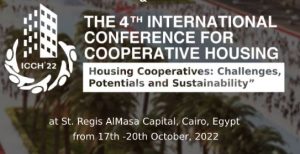 The General Authority for Construction and Housing Cooperatives (CHC – Egypt) is hosting the 4th International Conference for Cooperative Housing in parallel with the 13th Africa Ministerial Co-operative Conference (AMCCO).
The conference activities include opening sessions, scientific sessions, workshops, seminars and lectures.
Main Topics 
Methods of comprehensive and sustainable cooperatives

Cooperatives & sustainable economic growth

Cooperatives: institutional development, management and financing

Cooperatives & community-driven development

Integrated cooperatives: challenges and potentials

Legislative frameworks and bylaws to sustain cooperative practices
St. Regis AlMasa Capital, Cairo
17 to 20 October 2022
Housing Cooperatives: Challenges, Potentials and Sustainability
17 to 20 October 2022
More details available here.