Parallel Session- Housing and Energy the Cooperative Way
Kigali Convention Centre KG 2 Roundabout, Kigali, Rwanda
October 16, 2019 - October 16, 2019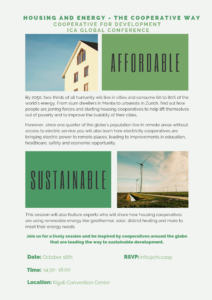 By 2050, two-thirds of all humanity will live in cities and consume 60 to 80% of the world's energy. From slum dwellers in Manila to urbanists in Zurich, find out how people are joining forces and starting housing cooperatives to help lift themselves out of poverty and to improve the livability of their cities.
However, since one-quarter of the globe's population live in remote areas without access to electric service you will also learn how electricity cooperatives are bringing electric power to remote places, leading to improvements in education, healthcare, safety, and economic opportunity.
This session will also feature experts who will share how housing cooperatives are using renewable energy like geothermal, solar, district heating and more to meet their energy needs.
Join us for a lively session and be inspired by cooperatives around the globe that are leading the way to sustainable development.
Time: 14:30 – 18:00
Location: Kigali Convention Centre KG 2 Roundabout, Kigali, Rwanda
Speakers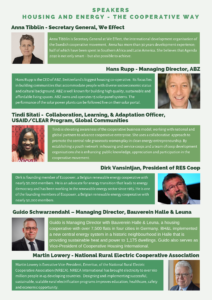 Anna Tibblin – Secretary General, We Effect
Hans Rupp – Managing Director, ABZ
Tindi Sitati –  Collaboration, Learning, & Adaptation Officer, Global Communities
Dirk Vansintjan – President of RES Coop
Guido Schwarzendahl – Managing Director, Bauverein Halle & Leuna
Martin Lowery – Executive Vice President, Emeritus, of the National Rural Electric Cooperative Association (NRECA)
Facilitated by Julie LaPalme (CHI) and Martin Lowery (NRECA)
Questions: info@chi.coop    Download poster here.
Registration: https://register.kigali2019.coop/