Panel Discussion on Development Best Practices Involving Partnerships
International Social Housing Festival, Lyon, France
June 05, 2019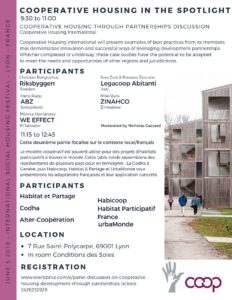 This panel will discuss cooperative housing developments involving partnerships with other organizations or institutions such as:
• government agencies
• landholders
• housing financing institutions including financial cooperatives
• charitable organizations and foundations
• faith and benevolent groups
• any other group interested in developing co-op housing solutions for their communities.
Panelists from Sweden, Germany, France, Italy, and Switzerland will share success stories about co-op housing development by discussing why the project got started, the partners involved and how the project is financed. They will also highlight special energy efficiency features such as heating and cooling systems and waste management systems. Is the project using a home-ownership or rental housing model, or both? If home-ownership, is affordability built-in? Registration details are coming soon!