2016 Housing Europe General Assembly & Conference
Palais des Nations, Geneva, Switzerland
September 15, 2016 - September 16, 2016
The Housing Policies of our Future – How to Make Them Work
UN Palais des Nations, Geneva, 15 & 16 September 2016
On September 15 & 16, 2016 at Palais des Nations in Geneva, Co-operative Housing International joined with the UN Economic Commission for Europe, Housing Europe, UNECE, the Slovakian Presidency of the EU for a capacity building conference that aimed to deliver a roadmap of suggestions for the housing policies of our future in Europe and beyond. This was also the 2016 Housing Europe General Assembly.
Nicholas Gazzard, CHI President, opened the conference, other speakers included Anders Lago from HSB Sweden, Dr. Christian Lieberknecht from GdW Germany, Blase Lambert from the Confederation of Co-operative Housing UK, Dermot Sellars from Co-operative Housing Ireland, and Pasquale Talerico from Kalkbreite Co-operative in Switzerland.
The conference themed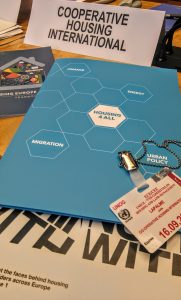 "The Housing Policies of our Future– How to Make Them Work" saw housing experts from Europe and beyond deliver a roadmap of suggestions for future housing policies. Peter Cachola Schmal, director of the German Architecture Museum, which helped curate examples of housing for immigrants for the German pavilion at the Venice Biennale was the keynote speaker making the case that "We don't have a refugee crisis, we have a housing crisis. Building affordable housing for refugees will thus create tensions with all those already waiting for affordable housing because now they are competing in a shrinking market. If cities take a more creative approach to urban planning—adopting some of the solutions that architects propose—it may soon become clear that the influx of refugees can lead to better housing for everyone."
Blase Lambert from the Confederation of Co-operative Housing in the UK highlighted the many different models of housing co-operatives which helped to emphasise the flexibility of housing co-operatives in meeting the different needs of residents from all over the world. Anders Lago, Chairman of HSB from Sweden, had this to say about the Housing Europe Conference: "The conference really showed the breadth of housing issues in Europe. But despite this, almost all European countries have a housing shortage. We need better social housing policies in the EU for housing people with low or no incomes."
Click here to find out more.