CHI May 2022 Member Forum
Zoom
May 11, 2022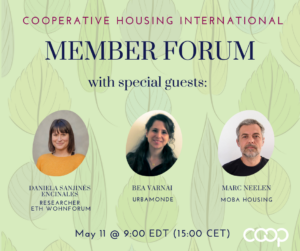 Meet the panelists!
Daniela Sanjines Encinales from ETHZ was in Latin America recently for a research project and then in Colombia with ETHZ students to support the housing cooperative of ex-combatants in planning their communal spaces. ETHZ has currently engaged in the research project "Tackling the Global Housing Challenges: Relevance and Replicability of Switzerland's and Uruguay's Housing Cooperatives' Policies and Strategies." In this framework, they studied the endeavours of Uruguay's Federation of Mutual Aid Housing Cooperative (FUCVAM) to support the introduction of its model in other Latin American countries. Uruguay has a strong and regionally very influential housing cooperative movement! With regard to the replicability of the FUCVAM model, they focused on the case of El Salvador where FUCVAM was actively engaged for many years and where considerable progress has been made with the institutionalization of housing cooperatives. Furthermore, they focus on the case of Colombia, where ex-combatants were trained by FUCVAM and are currently committed to establishing a housing cooperative under rather adverse conditions. Our engagement in Colombia is not only academic; with the financial support of the Solidarity Fund of ABZ and in collaboration with Urbamonde, they started the project "Promoting peace and reconciliation through cooperative housing in post-conflict Colombia" they assisted the community to improve their house designs and recently they were there with their students to support the planning and design of communal spaces.
Bea Varnai is passionate about participatory urban development and the organizational processes underlying community-led housing initiatives. She has been supporting people-led housing initiatives across Europe, Africa, and Latin America. Part of her work focuses on the design of financial mechanisms that are sustainable and self-managed, with the aim to enable access to affordable finance for community-led housing initiatives. Bea Varnai holds a MA degree in International Development from the Graduate Institute (Geneva) and has worked and studied in France, Switzerland, Germany, Brazil, Mexico, and Senegal.
Marc Neelen for over 20 years has been pioneering approaches for resilient, robust, and more self-determining urban communities. Trained as an architect at the Delft University of Technology, his work often involves scenarios envisioning the wider impact these communities could have on our cities, but equally providing hands-on tools that help them on the get-go. As part of this, he has developed financial viability tools for community-led housing groups in CSEE countries and is involved in a number of novel cooperatives in the fields of housing and energy, including MOBA Housing SCE, Pametnija Zgrada, and Elektropionir. Marc is also co-founder of the spatial practice STEALTH.unlimited with Ana Džokić. They co-authored the book Upscaling, Training, Commoning (Jovis, 2018).
Agenda
• MOBA Housing Share Offer (Bea Varnai & Marc Neelen)
• Cooperative Housing Study Tour in Latin America (Daniela Sanjinés Encinales)
RSVP via Eventbrite