view all bulletins
Podcast with Rosie Moore in New Zealand & Vision 4 Housing in Kenya – February 2022

Coop Conversations
Since launching our podcast series about life in a housing cooperative we have talked to co-op members from Ireland, Switzerland, the USA, Canada, Serbia, South Korea, and in this latest episode we talk to Rosie Moore from Peterborough Housing Co-operative in Christchurch, New Zealand.
The Peterborough Housing Co-operative was founded in 1982 but had to be rebuilt after experiencing extensive damage in the 2011 earthquake. The coop rebuilt a unique pocket neighborhood in the heart of Christchurch, with the community at its centre. You can listen to Coop Conversations on Spotify or wherever you listen to podcasts. You can also watch it on our YouTube channel.

Vision 4 Housing – Nakuru Town, Kenya 
Vision 4 Youth Housing Cooperative Society Limited in Kenya is a youth group focused on providing its members with quality housing. Based in Nakuru Town, an area with an average growth rate of 3.1% per annum, compared to the Kenyan average of 2.6%, Vision 4 is providing much-needed housing.
To understand how a cooperative works, members underwent training that helped them put in place the structure and organization that they now follow. The cooperative has over 120 members and has added older members, ranging in age from 18 to 50 years.
The pandemic had a significant impact on the cooperative's housing construction contracts, but unlike many other businesses that were forced to close, the cooperative provided members with opportunities to build their way to more economic stability through income-generating activities.
Thanks to a partnership with Global Communities' CLEAR Program under the USAID Cooperative Development Program, training on Gender, Good Governance and Equity has led to increased participation of women in cooperative operations. The youth have not been left out – they are contracted on a daily basis to make interlocking blocks for the construction of housing for members.
Vision 4 Housing has proven that cooperatives can create income-earning opportunities that protect the environment, promote community participation, and encourage entrepreneurial spirit. Cooperatives are not only sustainable businesses but partners in locally-led community development. Read the full case study here.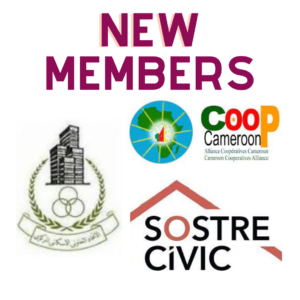 Sostre Civic
Sostre Civic is a "right of use" housing cooperative based in Catalonia, Spain. The cooperative promotes an alternative housing access model that is achieved through discovery, counsel, funding research, promotion, and management. Sostre Civic promotes citizens' participation and self-organisation as well as spreading the word about the cooperative housing model as a means to access housing. Head over to their website to find out more. You can also download a presentation on their land acquisition and financing models.
Coop Cameroon Habitat
Cooperatives are now at the centre of local development in the municipalities of the Republic of Cameroon. Through the Coop Cameron Habitat sector, the promotion and development of housing cooperatives will take place in all 360 municipalities in Cameroon.
COOP-CAMEROON HABITAT's objective is to serve for the promotion of sustainable human development through the promotion of cooperative and mutual aid solutions to the problem of affordable housing.  Read more about Coop Cameroon here.
Central Housing Co-operative Union (CHCU)
CHCU is a non-governmental organisation with 300 employees composed of engineers, lawyers, and administrators. In cooperation with the board of directors, CHCU supervises and approves housing projects of the housing societies and provides legal and technical assistance. For more information, you can visit their website here.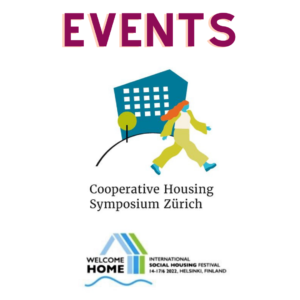 Join CHI and CoHabitat Network partners for the Collaborative Housing Day on June 15. More details will follow soon.
Growing the Movement: 2 Days of Talks and Inspiration
The symposium will be followed by a side event on student housing cooperatives September 24-25. Details to follow.
Contact info@chi.coop for more information.