view all bulletins
Podcast with Maxime Zaït in Belgium, Board Meeting and Plenary, and more Events – May 2022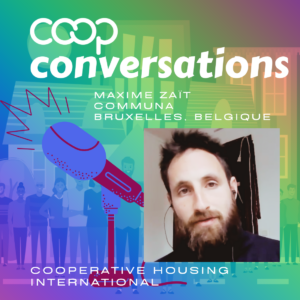 Coop Conversations
In Brussels, there are more than six million square meters of empty space, and meanwhile, thousands of people are looking for decent and affordable space to live or to set up initiatives. Maxime Zaït is a lawyer, researcher, and co-founder of Communa, STUN Europe, and Fairground Brussels, non-profit organisations that focus on building communities and tackling vacancies to create temporary places, to transform the city in the long term. Maxime traveled for several months to eight countries in Europe to study the right to the city, the right to housing, anti-speculation models, pooling, and temporary social use. In this conversation, Maxime shares with us the different approaches he saw and the similar problems that exist in Brussels and in the places he visited.
You can listen to Coop Conversations on Spotify or wherever you listen to podcasts. You can also watch it on our YouTube channel. This is our second podcast in French!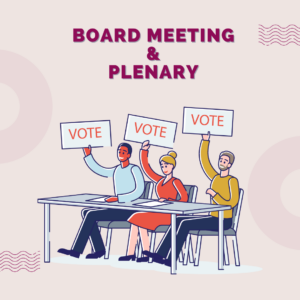 Board Meeting and Plenary Sevilla, Spain – June 21
CHI members and directors will be meeting in person and online in Sevilla, Spain after the ICA General Assembly (June 20) on June 21, 2022. We received eleven nominations for board of director positions. If you are a CHI member and plan to attend the meeting virtually or in person, if you haven't already, please contact Julie LaPalme at jlapalme@chi.coop. We'll keep you posted on the election results!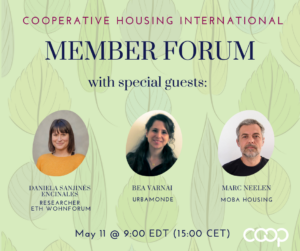 Member Forum – May 11
Daniela Sanjines Encinales from ETHZ was in Latin America recently for a research project and then in Colombia with ETHZ students to support the housing cooperative of ex-combatants in planning their communal spaces. ETHZ has currently engaged in the research project "Tackling the Global Housing Challenges: Relevance and Replicability of Switzerland's and Uruguay's Housing Cooperatives' Policies and Strategies." In this framework, they studied the endeavors of Uruguay's Federation of Mutual Aid Housing Cooperative (FUCVAM) to support the introduction of its model in other Latin American countries. Uruguay has a strong and regionally very influential housing cooperative movement! With regard to the replicability of the FUCVAM model, they focused on the case of El Salvador where FUCVAM was actively engaged for many years and where considerable progress has been made with the institutionalization of housing cooperatives. Furthermore, they focus on the case of Colombia, where ex-combatants were trained by FUCVAM and are currently committed to establishing a housing cooperative under rather adverse conditions. Our engagement in Colombia is not only academic; with the financial support of the Solidarity Fund of ABZ and in collaboration with Urbamonde, they started the project "Promoting peace and reconciliation through cooperative housing in post-conflict Colombia" they assisted the community to improve their house designs and recently they were there with their students to support the planning and design of communal spaces.
Bea Varnai is passionate about participatory urban development and the organizational processes underlying community-led housing initiatives. She has been supporting people-led housing initiatives across Europe, Africa, and Latin America. Part of her work focuses on the design of financial mechanisms that are sustainable and self-managed, with the aim to enable access to affordable finance for community-led housing initiatives. Bea Varnai holds a MA degree in International Development from the Graduate Institute (Geneva) and has worked and studied in France, Switzerland, Germany, Brazil, Mexico, and Senegal.
Marc Neelen for over 20 years has been pioneering approaches for resilient, robust, and more self-determining urban communities. Trained as an architect at the Delft University of Technology, his work often involves scenarios envisioning the wider impact these communities could have on our cities, but equally providing hands-on tools that help them on the get-go. As part of this, he has developed financial viability tools for community-led housing groups in CSEE countries and is involved in a number of novel cooperatives in the fields of housing and energy, including MOBA Housing SCE, Pametnija Zgrada, and Elektropionir. Marc is also co-founder of the spatial practice STEALTH.unlimited with Ana Džokić. They co-authored the book Upscaling, Training, Commoning (Jovis, 2018).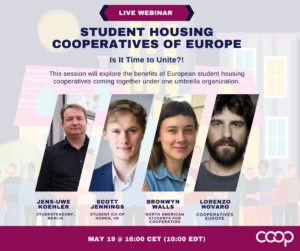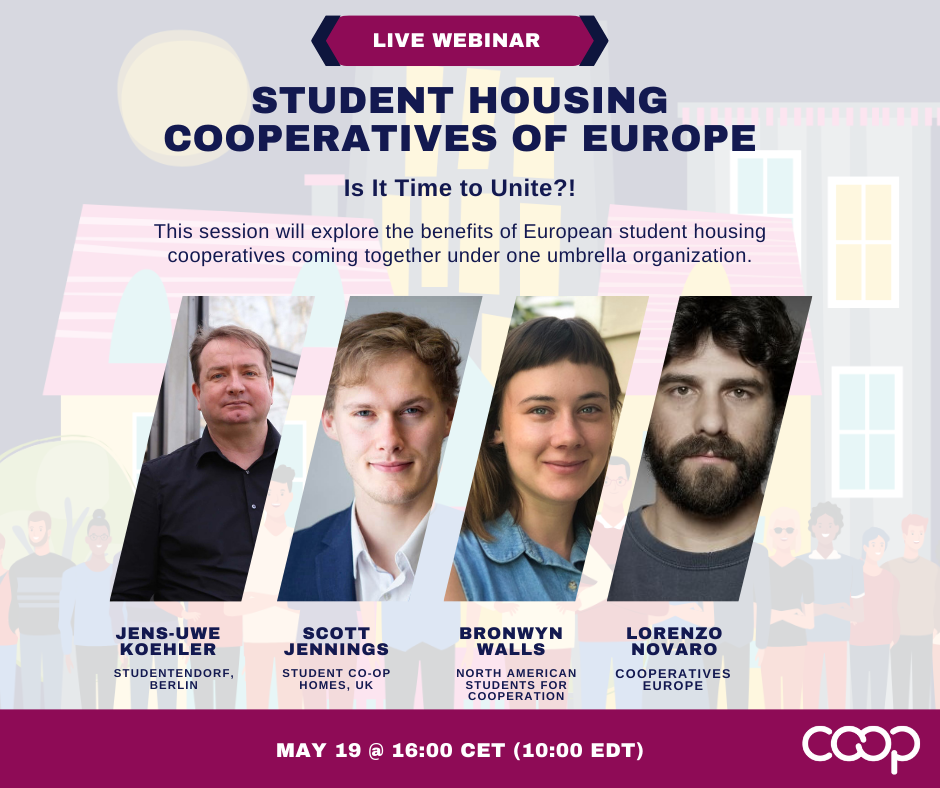 Student Housing Coops of Europe Is it Time to Unite? May 19
This session will explore the benefits of European student housing cooperatives coming together under one umbrella organization. Federating will provide the opportunity for student housing coops to network and cooperate with one another to further their goals of providing values-based housing to students. Building an association will also help to develop the potential for student housing cooperatives located in Europe through knowledge exchanges and networking opportunities. These often lead to meaningful partnerships, increased capacity, and improved services. Why operate in a vacuum when you can come together to discuss solutions to common problems? Uniting under one body also ensures your collective voices are stronger together.
Our international panel:
Jens-Uwe Koehler – Studentendorf, Berlin
Scott Jennings – Student Cooperative Homes (UK)
Bronwyn Walls – North American Students for Cooperation (NASCO)
Lorenzo Novaro  – Cooperatives Europe
May 19- 10 am EDT, 16:00 CET
Register via Eventbrite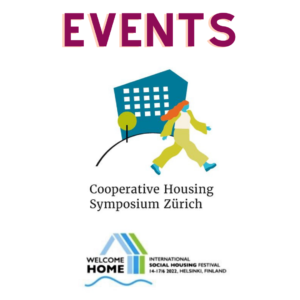 Join CHI and CoHabitat Network partners for the Collaborative Housing Day on June 15.
Achieving affordability and sustainability in housing, The right to housing: getting rid of the excuses not to guarantee it
September 22-23 Cooperative Housing Symposium in Zurich
The world needs more housing cooperatives! Coops play a vital role in making our cities green, equitable, and community-led. But there are more people with housing needs than there are housing coops. That's why we need to grow the movement: We want to share our success stories so that more coops worldwide can offer inclusive, safe, resilient, and sustainable housing.
The symposium will be followed by a side event on student housing cooperatives on September 24-25.
The European Student Co-op Convening: Developing a United Front. Co-organized by Cooperative Housing International, urbaMonde, Studentendorf Berlin, NASCO, Student Coop Homes (UK), and La Ciguë. It will be held after the official program of the Symposium and is open to all.