view all bulletins
Podcast with Ander Zabala Gomez in Catalonia, Spain, Energy Cooperatives, and more – April 2022

Coop Conversations
Check out our latest podcast episode featuring Ander Zabala Gomez from Sostre Civic in Catalonia, Spain. Ander talks about the right of use model being used by housing cooperatives in Barcelona and beyond. He also explains the first right of refusal legal framework that enables civil society organisations to buy abandoned buildings and transform them into useable and liveable spaces.
You can listen to Coop Conversations on Spotify or wherever you listen to podcasts. You can also watch it on our YouTube channel.

Wayshaper – The Options Planning Toolkit
Developing a housing cooperative is not an easy task nor is it a quick one. Most groups starting on this adventure hold regular meetings over a number of years and discuss a wide array of new topics related to organisational and property development. There is a lot of information to sift through and there are many decisions to make. To simplify and accelerate the development process for advisors working with groups in the UK, the Confederation of Cooperative Housing (CCH) has developed an options planning toolkit called Wayshaper to facilitate the planning of community-led housing projects by providing a framework for informed decision-making.
Wayshaper is a fun to use, card-based options toolkit which includes guidance for running a series of workshops that enable groups to focus on setting priorities, exploring different ways of delivering their vision and developing a stable model with consistency across options. The options include land ownership, governance, legal models, site search and planning, construction, location, design and build standards, financing and long-term management.
There are 70 options cards within Wayshaper which through QR codes link to dedicated webpages containing information about the option, downloadable resources, links to external resources, written case studies and video content.
Wayshaper builds on the success of the training and accreditation programme developed by CCH for advisors in the UK. Since its launch, over 40 advisors have become Wayshaper licence holders.
Blase Lambert, Chief Officer at CCH said 'Much of the work we have done over the last three years has been about helping new housing cooperatives to get set up and ensuring there is access to qualified advice and resources to help that happen. Wayshaper was the result of a year of research and development activity and has been greeted with much enthusiasm by those using it.'
CCH has already discussed creating versions of Wayshaper for other countries and if you would like further information feel free to contact us at info@cch.coop or visit the Wayshaper website www.wayshaper.co.uk

Energy Cooperatives for and by the Citizens
REScoop.EU is the European Federation of Citizen Energy Cooperatives, a quickly growing international network of nearly two thousand renewable energy cooperatives. Through their extensive "toolbox" and services, REScoop.EU is leading the transition in Europe towards a more decentralized, efficient, and democratic energy model.
Established in 2013 as a Belgian not-for-profit association, REScoop.EU operates very similarly to a cooperative but is distinct in the way they do business. With the unique goal of empowering communities and their citizens to be active in the European energy debate, REScoop.EU promotes the cooperative business model in the energy sector where citizens can jointly own, democratically control, and actively participate in renewable energy projects and resource management systems in their community.
REScoop.EU supports both new and existing energy cooperatives, providing an extensive range of information, services and tools to support local authorities, citizens, local businesses and housing cooperatives. It offers community coaching, organizational development training sessions, advocacy services with policymakers, and an extensive collection of text resources.
The members, or REScoops, are energy cooperatives prioritizing local energy sources,  local residents, and the local economy. There are 1900 REScoops representing upwards of 1 250 000 citizens all across Europe. Communities are working together democratically to achieve common renewable energy goals and develop efficient resource management systems.
Dirk Vansintjan, Co-founder and President of RESCoop.EU as well as a founding member of Ecopower, a Belgian renewable energy cooperative says "50% of energy can be produced locally which has the potential to generate a huge amount of revenue for the community." He also adds that "Democracy is not just for government. Citizen-led energy is the key to a proper transition to democracy."
Elektropionir, a new member of REScoop.EU, is one of the latest energy cooperatives working to connect individuals looking to invest in larger-scale solar panels together. Based in Serbia, Elektropionir was launched in 2019 and has since been providing citizens with the ability to produce their own electricity, control how much energy they produce, and invest in clean energy systems. By offering the course "Solar Engineering to the People" Elektropionir educates individuals through different modules tailored to a variety of solar energy initiatives and knowledge levels. Elektropionir is an innovative energy cooperative navigating the energy transition with an effective community organization. This is one of the many ways REScoop.EU members are working to ensure citizens have access to reliable energy sources.
Collaborative projects such as the 'Community Energy for Energy Solidarity'(CEES) initiative focus on identifying successful actions in tackling energy poverty and compiling them for replication. The Right to Energy Coalition is another successful project made possible through REScoop.EU's network and resources.
With energy poverty increasing across Europe,  individuals living within energy cooperatives represent a strong sense of solidarity and community resilience.
For more information on how housing cooperatives can transition to renewable and citizen-led energy initiatives through Citizen-led Renovations, you can contact Sem Oxenaar at sem.oxenaar@rescoop.eu .  And don't forget to check out the many useful resources in RESCoop's toolbox.
Members
OBOS
OBOS, Norway's largest housing developer, was founded in 1929.  Its vision is to make a contribution towards building the society of the future and, in doing so, fulfiling housing dreams. OBOS engages in the development and sale of homes and properties, banking and financial solutions, property management, real estate brokerage and other forms of service production in the housing and property sector.
Today OBOS has over 500 000 individual members which amount to around 8% of Norway's population.  OBOS is the largest member of NBBL, the Co-operative Housing Federation of Norway, and is also present and expanding in Sweden over the last decade.
Webinars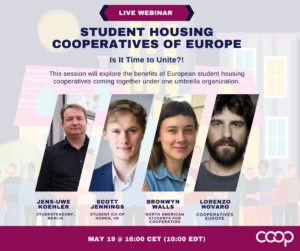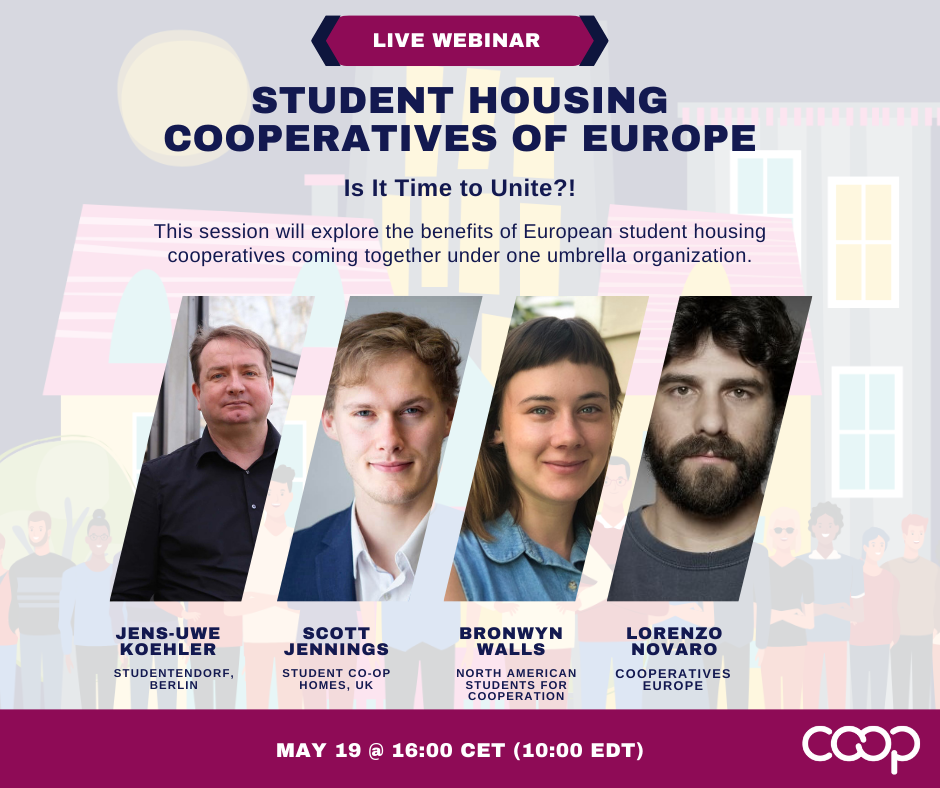 Student Housing Cooperatives of Europe – Is it Time to Unite?!
This session will explore the benefits of European student housing cooperatives coming together under one umbrella organization. Federating will provide the opportunity for student housing coops to network and cooperate with one another to further their goals of providing values-based housing to students. Building an association will also help to develop the potential for student housing cooperatives located in Europe through knowledge exchanges and networking opportunities. These often lead to meaningful partnerships, increased capacity and improved services. Why operate in a vacuum when you can come together to discuss solutions to common problems? Uniting under one body also ensures your collective voices are stronger together.
Our international panel:
Jens-Uwe Koehler – Studentendorf, Berlin
Scott Jennings – Student Cooperative Homes (UK)
Bronwyn Walls – North American Students for Cooperation (NASCO)
Lorenzo Novaro  – Cooperatives Europe
May 19- 10 am EDT, 16:00 CET
Register via Eventbrite
Events
Join CHI and CoHabitat Network partners for the Collaborative Housing Day on June 15. More details will follow soon.
Growing the Movement: 2 Days of Talks and Inspiration
The symposium will be followed by a side event on student housing cooperatives September 24-25.
Contact info@chi.coop for more information.