view all bulletins
International Social Housing Festival in Barcelona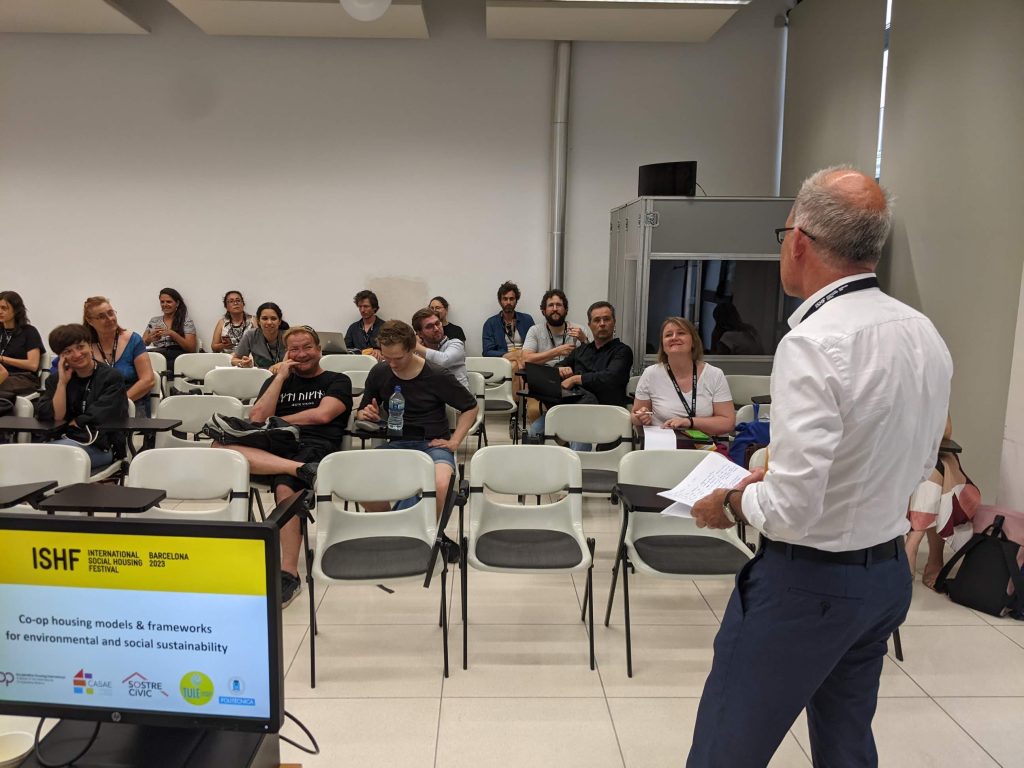 Over 2,100 individuals gathered at the International Social Housing Festival in Barcelona in June.  Housing providers, policymakers and housing advocates from 82 different countries discussed housing challenges and solutions. CHI presented at three side events: Community-Led Housing for Students And Seniors; Housing Models & Frameworks for Environmental and Social Sustainability; and Cooperative Housing & Ownership: News from Norway and Germany.
There is currently a lot of enthusiasm and interest surrounding the cooperative housing movement in Barcelona and other parts of Catalonia. This region is home to numerous thriving housing cooperatives, which were highlighted during seminars and site visits. One of these cooperatives, Sostre Civic, a member of CHI, has established 20 housing initiatives using the "right to use" model. This model involves collective ownership of the dwellings by the cooperative, with members granted the right to use them. To become a member, individuals make an initial contribution and pay a monthly fee similar to rent. Sostre Civic was inspired by similar movements in Denmark and Uruguay and is promoting this democratic and non-speculative model in Catalan.
CHI organized a panel on Housing Models and Frameworks for Environmental and Social Sustainability. The objective was to delve into the ways in which both emerging and established cooperatives are shifting towards a socially and environmentally sustainable society. Cooperatives such as Sostre Cívic (Catalan), GdW (Germany), GBV (Austria), Cooplink (Netherlands), Universidad Politécnica de Madrid (Spain) and Cooperativa Sociale Casae (Italy) were among the participants in this collaborative exchange of innovative ideas and solutions.
The Norwegian Cooperative Housing Federation (NBBL) and Cooperative Housing Associations (OBOS) presented innovative models that make it easier for young people and those with lower incomes to buy a home within the cooperative system. These models include shared ownership and rent-to-own options. Additionally, the Tenants Association of Bonn shared plans for establishing a cooperative with the residential and land owners association and the charity network of Catholic and Protestant churches.